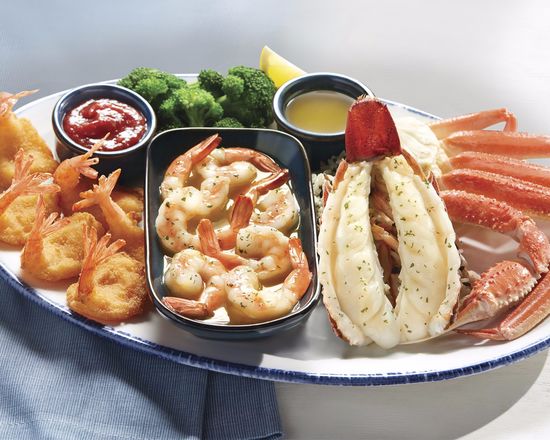 Red Lobster (935 Wayne Avenue)
4.3
(17)
  •  
View delivery time and booking fee.
Location and hours
935 Wayne Avenue, Chambersburg, PA 17201
Sunday - Thursday
11:30 AM - 08:00 PM
Friday - Saturday
11:30 AM - 09:00 PM
Ever wonder what the 3 most popular spots for Seafood delivery are in Chambersburg? You're looking at one of them. Want to taste one of the most popular items on the menu at this evening go-to? Order the Ultimate Feast®, or try the 7 oz. Sirloin** and the Half Dozen Cheddar Bay Biscuits®, which are two of the items most commonly ordered t...
Show more
Ever wonder what the 3 most popular spots for Seafood delivery are in Chambersburg? You're looking at one of them. Want to taste one of the most popular items on the menu at this evening go-to? Order the Ultimate Feast®, or try the 7 oz. Sirloin** and the Half Dozen Cheddar Bay Biscuits®, which are two of the items most commonly ordered together. • $$ •
Seafood
 • 
American
 • 
Family Meals
935 Wayne Avenue, Chambersburg, PA 17201 • More info
---
Family Meal Deals

Chicken Breast Strip Family Meal

Crispy chicken breast strips served with honey mustard, two family-size sides and eight Cheddar Bay Biscuits®. Serves 4. 5520 Cal - 8460 Cal

Shrimp Scampi Family Meal

Our signature hand-crafted garlic shrimp scampi served with two family-size sides and eight Cheddar Bay Biscuits®. Serves 4. 3550 Cal - 6490 Cal

Walt's Favorite Shrimp Family Meal

Walt's Favorite Shrimp served with cocktail sauce, two family-size sides and eight Cheddar Bay Biscuits®. Serves 4. 3510 Cal - 6450 Cal

Atlantic Salmon fillets served with two family-sized sides and eight Cheddar Bay Biscuits®. Serves 4. 3080 Cal - 6020 Cal

Golden-fried, wild-caught whitefish served with tartar sauce, two family-size sides and eight Cheddar Bay Biscuits®. Serves 4. 4630 Cal - 7570 Cal

Parrot Isle Jumbo Coconut Shrimp Family Meal

Parrot Isle Jumbo Coconut Shrimp served with our signature piña colada sauce, two family-size sides and eight Cheddar Bay Biscuits®. Serves 4. 5100 Cal - 8040 Cal

Shrimp Linguini Alfredo Family Meal

A family-size serving of Shrimp Linguini Alfredo served with eight Cheddar Bay Biscuits®. 4130 Cal

Cajun Chicken Linguini Alfredo Family Meal

A family-size serving of Cajun Chicken Linguini Alfredo served with eight Cheddar Bay Biscuits®. 4460 Cal

Crab Linguini Alfredo Family Meal

A family-size serving of Crab Linguini Alfredo served with eight Cheddar Bay Biscuits®. 4360 Cal

Create Your Own Family Feast

Your choice of three seafood favorites and two family-style sides. Includes 8 Cheddar Bay Biscuits®. Serves 4-6. 3890 Cal - 11750 Cal

Tender Maine lobster tails, wild-caught North American snow crab legs, our signature hand-crafted garlic shrimp scampi and Walt's Favorite Shrimp. Served with two family-style sides and 8 Cheddar Bay Biscuits®. Serves 4-6. 6030 Cal - 8970 Cal

Walt's Favorite Shrimp, bay scallops, clam strips and wild-caught whitefish, all fried to a golden brown. Served with two family-style sides and 8 Cheddar Bay Biscuits®. Serves 4-6. 7020 Cal - 9960 Cal

Seaside Shrimp Trio Family Feast

Walt's Favorite Shrimp, hand-crafted garlic shrimp scampi and creamy shrimp linguini Alfredo. Served with two family-style sides and 8 Cheddar Bay Biscuits®. Serves 4-6. 6780 Cal - 9720 Cal

Party Platters

Parrot Isle Jumbo Coconut Shrimp Platter

Hand-dipped, tossed in flaky coconut and fried golden brown. Served with piña colada sauce. 2870 Cal

Walt's Favorite Shrimp Platter

Served with cocktail sauce. 1290 Cal

Chicken Breast Strips Platter

Golden-fried chicken breast strips. Served with honey mustard. 4520 Cal

Crunchy Popcorn Shrimp Platter (2 1/4 lb)

Bite-sized shrimp fried until golden brown. Served with cocktail sauce. 2500 Cal

Mozzarella Cheesesticks Platter

Served with marinara sauce. 1550 Cal

Key Lime Pie Whole Pie (12 slices)

Vanilla Bean Cheesecake Whole Dessert (12 slices)

Family New England Clam Chowder (serves 6)

Family Lobster Bisque (serves 6)

Appetizers

NEW! Jumbo Lump Crab Cakes

Housemade with jumbo lump crabmeat and a brioche crumb. Pan-seared and served with remoulade.

NEW! Bacon-Wrapped Jumbo Sea Scallops

Jumbo sea scallops wrapped in crispy bacon.

Golden-fried calamari topped with banana peppers. Served with marinara sauce. 1010 Cal

Lobster and Langostino Pizza

Maine lobster meat, langostino, Norway lobster, melted mozzarella, fresh tomatoes and sweet basil. 700 Cal

Signature Jumbo Shrimp Cocktail

Served chilled with our classic cocktail sauce. 130 Cal

Parrot Isle Jumbo Coconut Shrimp Appetizer

Dunk in our signature piña colada sauce. 610 Cal

Langostino Lobster-Artichoke-and-Seafood Dip

Langostino and Norway lobster, seafood, artichokes and spinach in a three-cheese blend. Served with tortilla chips and house-made pico de gallo. 1190 Cal

NEW! Crab-Stuffed Shrimp Rangoon

Crispy, crab-stuffed shrimp with sweet chili sauce. 660 Cal

Seafood-Stuffed Mushrooms

Signature seafood stuffing and Monterey Jack cheese. 390 Cal

White Wine and Roasted-Garlic Mussels

Roasted tomatoes and green onions. Served with grilled artisan bread. 880 Cal

Served with marinara. 700 Cal

Shrimp, Lobster, Crab & Combinations

NEW! Kung Pao Noodles with Crispy Lobster

Hand-battered, fried lobster tail with noodles tossed in a sweet and spicy soy-ginger sauce with edamame, cabbage, crispy onions, cashews and green onions.

NEW! Kung Pao Noodles with Crispy Shrimp

Crispy shrimp in a sweet and spicy soy-ginger sauce with edamame, cabbage, crispy onions, cashews and green onions.

Tender Maine lobster tail, wild-caught North American snow crab legs, our signature hand-crafted garlic shrimp scampi and Walt's Favorite Shrimp. Served with rice and choice of side. 1070 Cal

A generous sampling of Walt's Favorite Shrimp, hand-crafted garlic shrimp scampi and creamy shrimp linguini Alfredo. Served with choice of two sides. 1100 Cal

Walt's Favorite Shrimp, bay scallops, clam strips and wild-caught whitefish, all fried to a golden brown. Served with choice of two sides. 1650 Cal

Lobster, Shrimp and Salmon

A Maine lobster tail, jumbo shrimp skewer and fresh Atlantic salmon finished with a brown butter sauce. Served with choice of two sides. 870 Cal

Wild-Caught Snow Crab Legs

Crack into tender, snow-white North American crabmeat. Served with choice of two sides. 440 Cal

Petite Maine lobster tails, split and roasted, with shrimp, bay scallops, mussels and fresh tomatoes. Served over linguini in a garlic and white wine broth. 1250 Cal

Tender Maine lobster meat tossed with tomatoes and linguini in a creamy lobster sauce. 1310 Cal

Create Your Own Combination - Choose Any Two

Served with choice of two sides. 100 Cal - 1560 Cal

Create Your Own Combination - Choose Any Three

Served with choice of two sides. 150 Cal - 2340 Cal

Parrot Isle Jumbo Coconut Shrimp

Hand-dipped, tossed in flaky coconut and fried golden brown. Served with our signature piña colada sauce and choice of side. 960 Cal

Hand-breaded, butterflied and lightly fried—just the way Chef Walt liked them. Served with choice of side. 550 Cal

Two grilled shrimp skewers with a butter garlic glaze. Served with choice of two sides. 280 Cal

Crispy shrimp dusted with spicy seasoning and drizzled with honey. While supplies last.

Fish

NEW! Sesame-Soy Salmon** Bowl

Grilled Atlantic salmon, crispy Brussels sprouts, quinoa rice, edamame, mixed greens and crispy onions with a soy-ginger drizzle.

Today's Catch - Atlantic Salmon**

Served with choice of two sides. 630 Cal

Today's Catch - Salmon New Orleans** (Full)

Blackened Atlantic salmon topped with shrimp tossed in a Cajun butter sauce, with tomato-cilantro relish. Served with choice of two sides. 890 Cal

Today's Catch - Rainbow Trout

Served with choice of two sides. 490 Cal

Hand-battered, wild-caught cod served with coleslaw, tartar sauce and one side (we suggest French Fries as selected). 980 Cal

Chicken & Steak

NEW! Kung Pao Noodles with Chicken

Tender chicken in a sweet and spicy soy-ginger sauce with edamame, cabbage, crispy onions, cashews and green onions.

NEW! Wagyu Bacon Cheeseburger**

Grilled Wagyu patty, crispy bacon, white Cheddar, lettuce and tomato on a toasted brioche bun. Served with choice of side.

Cajun Chicken Linguini Alfredo

Simply seasoned with peppercorn. Served with choice of two sides. 480 Cal

Simply seasoned with peppercorn. Served with choice of two sides. 790 Cal

Simply grilled with a peppercorn seasoning. Served with choice of two sides. 460 Cal

Two grilled chicken breasts served with choice of two sides.

Soups, Salads & Sides

NEW! Sesame-Soy Salmon** Bowl

Grilled Atlantic salmon, crispy Brussels sprouts, quinoa rice, edamame, mixed greens and crispy onions with a soy-ginger drizzle.

Classic Caesar Salad with Grilled Chicken

New England Clam Chowder Bowl

New England Clam Chowder Cup

Creamy Langostino and Norway Lobster Mashed Potatoes

Half Dozen Cheddar Bay Biscuits®

All entrées come with two warm, house-made Cheddar Bay Biscuits. Not enough? Order extra here. 970 Cal

One Dozen Cheddar Bay Biscuits®

All entrées come with two warm, house-made Cheddar Bay Biscuits. Not enough? Order extra here. 1940 Cal

Kids

Served with choice of side. 250 Cal

Served with choice of side. 280 Cal

Served with choice of side. 620 Cal

Served with choice of side. 560 Cal

Served with choice of side. 80 Cal

Petite Maine Lobster Tail

Choose Classic style or Wood-Grilled. Served with choice of side. 390 Cal - 440 Cal

Biscuits & Extras

One Dozen Cheddar Bay Biscuits®

All entrées come with two warm, house-made Cheddar Bay Biscuits. Not enough? Order extra here. 1940 Cal

Half Dozen Cheddar Bay Biscuits®

All entrées come with two warm, house-made Cheddar Bay Biscuits. Not enough? Order extra here. 970 Cal

NEW! Jumbo Lump Crab Cake

Maine Lobster Tail - Classic

NEW! Bacon-Wrapped Sea Scallops

Baked in a garlic sauce. 220 Cal

Desserts & Beverages

Layers of warm, decadent chocolate cake and creamy fudge frosting. 1110 Cal

Warm brownie wedges served with a scoop of vanilla ice cream. Topped with caramel, fudge, and whipped cream. 1020 Cal

A tart, sweet, creamy classic with a graham cracker crust. 500 Cal

Layered with sweet Italian cream on a vanilla cookie crust, with vanilla bean-infused whipped cream and white chocolate shavings. 700 Cal