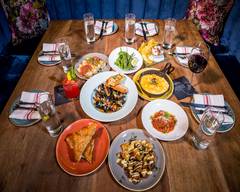 Pamplona
View delivery time and booking fee.
Location and hours
3100 Clarendon Blvd, Arlington, VA 22201
Sunday
04:00 PM - 08:00 PM
Monday
Closed
Tuesday - Saturday
04:00 PM - 08:00 PM
3100 Clarendon Blvd, Arlington, VA 22201 • More info
---
PampToGo

5 Beef meatballs , pomodoro tomato sauce, and shaved idiazabal cheese.

Crispy Brussel sprouts and lemon aioli.

vegetarian and gluten free

Chicken paella, bechamel, and piquillo pepper.

Chickpea puree, paprika oil, and bread.

6 Shrimp garlic white wine butter sauce, and aromatic herbs.

Gluten Free

Mahon cheese , serrano ham, and truffle honey, fries

8 oz Delmonico blend patty, lettuce, cheddar cheese, tomato, pickles, grilled onions, briachebun, signature sauce,

Crispy potatoes, tomato sauce, and pepper aioli.

5 rice croquetas. Manchego, mushroom, and piquillo pepper.

Truffle Macaroni and Cheese

Jack cheese, Cheddar, and infused with truffle oil.

Penne pasta, asparagus, spinach, wild mushrooms, and light cream.

Pamp Hot Chicken Sandwich

Spicy Fried Chicken, pickles, brioche bun and fries.

boneless roasted chicken, rice, sweet peppers, chicken sausage, pepper aioli

Spring veggies, wild mushrooms, baby spinach, lima beans, rice

Sweet Peppers, mussels, shrimp, fried calamari, rice, pepper aioli

35 oz grilled steak, herb truffle butter, seasonal vegetables.