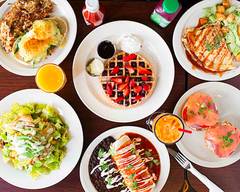 Bread Furst (Cleveland Park)
$$ •
4.7
(218)
  •  
View delivery time and booking fee.
Location and hours
4434 Connecticut Ave Nw, Washington, DC 20008
Sunday - Wednesday
08:30 AM - 05:30 PM
Thursday - Friday
08:00 AM - 05:30 PM
Saturday
08:30 AM - 05:30 PM
4434 Connecticut Ave Nw, Washington, DC 20008 • More info
---
Savory Foods

Green Lentils

Served by the 1/2 lb. French Lentils, Onion, Celery, Parsley and Feta Cheese

Kale Salad

Kale, Fennel, Onion, Radish, Feta & a Lemon Vinaigrette 16 oz serving

Chicken Salad

Curry, Celery, Onion, Raisin, Almond house made mayo 16 oz

Caprese Salad

Local Tomato, Mozzarella, with a Basil Pesto dressing, 16 oz

Empanada (Two)

Bake at Home! Not yet cooked...Frozen Beef & Raisin

Mac N' Cheese

Gruyere Cheese, Scallions, Cheddar, Cream, Milk, Spices.

Egg Salad

Free Range Eggs, Chervil, Onion, Housemade Mayo, Paprika, Parsley, Scallion

Grilled Marinated Chicken Breast

Lemon Thyme Marinated Large Chicken Breast.

Caeser Salad

Romaine, Parmesean, Croutons with House Made Caeser Dressing

Falafel Bowl

Greens, House Made Falafel, Pickled Onion, Cucumber, Farro, Fried Chickpeas, Radish

Nicoise Salad

Greens, Tuna, Potato, Green Beans, Hard Boiled Egg with Dressing

Salmon Cakes

Two Salmon Cakes served with Dill Sauce on the side.

Fried Chickpeas

Fried Chickpeas dusted in a North African Spice Blend

Grocery

Sweet Ellas Peanut Butter - Smooth

Sweet Ellas Peanut Butter - Chunky

Pimento Cheese

House recipe serviced 12 oz

Eggs - Dozen

Local Brown Eggs - Dozen..various local farms

Yogurt

Pequea Farms, strawberry Banana or Blueberry, sold by the each

Flowers Bouquet

Bouquet of fresh cut flowers...

House Made Salsa

12oz canned house made salsa

House Made Salsa Verde

12oz Canned House Made Salsa

Sliced Salami

1732 Sliced Salami, Crazy Garlic or Smoked Paprika

Smoked Mozzarella

Di Bruno Brothers Smoked Mozzarella Ball.

Shakshuka

House made Shakshuka jarred and ready to be made with eggs and cheese for your next brunch.

Kimchi- Mother in Law's

16oz Mother in Laws Kimchi

Dijon Mustard- Edmond Fallot

Jed's Honey

Local Honey harvested by Jed in Potomac, MD

Mike's Hot Honey

Spicy and sweet. Great addition to pizza and savory foods.

Busseto Salami- Rosso

7 oz salami flavored with a fine red.

Prosciutto Italiano- Maestri

Authentic, all-natural prosciutto. 3oz

Breads

Baguette

Made with Organic Locally Milled Flours.

MultiGrain Bread

Made with Organic Locally Milled Flours and a blend of 7-Grains.

Pallidian Loaf

Our version of a Chibatta.

Levian

10% Whole Wheat. Our version of a sourdough.

Bagel

Not New York, Not Montreal our own style of Bagel.

Sesame Semolina

Semolina Bread coated in Organic Sesame seeds

Palladin Rolls

Our version of a Chibatta Roll - (4 per)

Raisin Walnut Loaf

Our Version with golden raisins

Baguette Chips

Seasoned and Toasted Baguette Rounds

Bahn Mi Roll

Crusty exterior with a lite, but flavorful interior.

Marble Rye

Traditional Marble Rye...Hand Formed Loaf,

Challah

Special for the Rosh Hashanah Holiday

Pastry

Scone

Apricot & Ginger. 2 to a bag

Croissant

Traditional Buttery Recipe. 2 to a bag

Pain Au Chocolat

Traditional Buttery Recipe with Batons. 2 to a bag

Cookie Roberts

Our Praline Shortbread Cookie

Monkie Bread

Cinnamon sugar and chocolate pull apart pastry, package of 2

Passion Fruit Crueler

Two Passion Fruit Cruelers

Drinks

San Benedetto Sparking Water

San Benedetto - Still Water

Orange Juice - Natalie's Fresh

Savory Breakfast

Egg and Cheese Sandwich

English Muffin with eggs and shredded cheddar

Gravlox Bagel Sandwich

Bagel with house cured gravlox, arugula, pickled red onion

Ham & Cheese Biscut

Heritage Ham, Sharp Cheddar, Apricot Jam on a Buttermilk Biscuit

Hummus Bagel

Bagel with Hummus, Cucumber, Arugula, Alfalfa Sprouts
Allergens: These items may include unlisted ingredients and/or be prepared on equipment that processes allergens. Take precautions if you have an allergy.