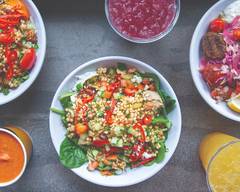 CAVA (2001 Walnut Street, Suite 100)
$ • Dinner • Saludable • Ensaladas • Family Meals
4.7
(200+)
  •  
Conoce la hora de entrega y el costo de envío.
Ubicación y horario de atención
2001 Walnut Street , Suite 100, Cary, NC 27511
Todos los días
10:45 a. m. - 09:30 p. m.
2001 Walnut Street , Suite 100, Cary, NC 27511 • Más información
---
Bowls & Pitas

Lamb Nacho Bowl

A Mediterranean spin on nachos curated by CAVA that includes Braised Lamb, Brown Rice, SuperGreens, Harissa, Pita Crisps, Feta, and Pickled Onions. Finished off with Skhug and Harissa Yogurt dressings.

Agotado

 • 

$11.32

 • 

1020 Cal.

Family Meal

Introducing Family meals!

$45.00

 • 

2280 - 5850 Cal.

Greens + Grains Bowl

Mix and match your favorite greens and grains.

Grain Bowl

With Saffron Basmati Rice, Brown Basmati Rice, or Black Lentils

Salad

Organic Arugula, SuperGreens, Spinach, Mesclun, Romaine.

Pita

Large warm pita filled with your unique combination of ingredients.

Single Mini Pita

Two mini pitas. Mix and match your favorite ingredient combos.

Kid's Mini Pita

The perfect meal for kiddos: mini pita, hummus, chips or carrot sticks, rice, and organic milk or juice.

Harissa Avocado Bowl

A fresh but fiery chef-curated bowl that's perfect for summer. Includes SuperGreens, Basmati Rice, Crazy Feta, Hummus, Harissa Honey Chicken, Fire-Roasted Corn, Avocado, Pickled Onions, Cucumber, Feta and our new Hot Harissa Vinaigrette.

Greek Salad

Tangy and light but savory, this chef-crafted bowl is about as Mediterranean as it gets. A base of Romaine and Arugula, Hummus and classic Greek ingredients: Tzatziki, Grilled Chicken, Feta, Cucumber, Tomato, Kalamata Olives, and Greek Vinaigrette.

Tahini Caesar

The classic Chicken Caesar reimagined with a CAVA twist. Includes Romaine, Arugula, Hummus, Grilled Chicken, Pita Crisps, Pickled Onions, Feta, and topped off with new Tahini Caesar dressing made with Aleppo pepper.

Drinks

Spindrift Sparkling Water - Lemon

With a pleasant hint of citrusy sparkle, this sip is the perfect way to enhance (not overwhelm!) your meal.

Maine Root: Blueberry Bottle

Refreshing taste of Blueberry

Maine Root: Ginger Brew Bottle

Maine Root: Mexicana Cola Bottle

Maine Root: Root Beer Bottle

Still Water

Grab a bottle of water to go.

Sparkling Water

Grab a bottle of water to go.

Sides

Side Dip

Our dips and spreads, made fresh daily.

Pita Chips

Made in-house in small batches, our pita chips are meant for big dipping.

Side Pita

Perfect for dipping or making a quick DIY pita.

Chocolate Chip Cookie

Chocolate chip cookie thoughtfully crafted by a local bakery partner.

Chocolate Chip Blondie

Handcrafted by Greyston for CAVA.

Chocolate Fudge Brownie

Handcrafted by Greyston for CAVA.