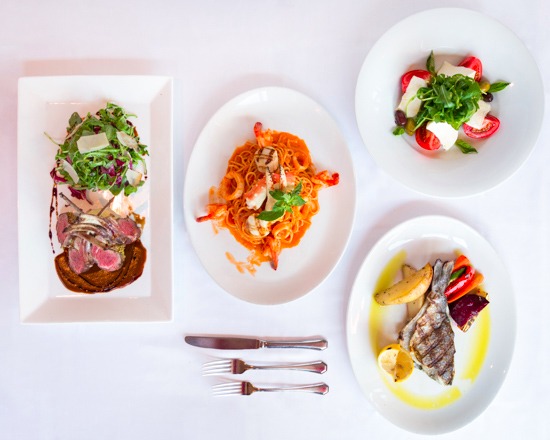 Alioli
4.5
(63)
  •  
View delivery time and booking fee.
Location and hours
350 Burnhamthorpe Rd W, Mississauga, ON L5B 3J1
Sunday
Closed
Monday - Friday
12:30 PM - 08:30 PM
Saturday
04:00 PM - 08:30 PM
---
Insalate and Antipasti

Our chef's daily creations.

Romaine lettuce, croutons, homemade Caesar dressing, and crispy prosciutto.

Arugula, radicchio, cherry tomato, shaved parmigiano, and homemade aioli dressing.

Buffalo mozzarella, cherry tomatoes, arugula, and marinated olives.

Traditional Italian eggplant Parmesan.

Pan-seared jumbo sea scallops and lime avocado yogurt dressing.

Grilled roasted wild mushrooms with grilled red onion, zucchini goat cheese, baby arugula, and truffle vinaigrette.

Poached octopus, with potato, cherry tomato and fennel, lemon and olive oil dressing.

Grilled squid, red onion, capers, diced tomato, olive tapenade.

Deep-fried, marinated squid, shrimp, cornflour crusted.

Traditional lobster and crab cake served with a saffron aioli sauce.

Charcuterie Platter for 2

prosciutto di parma (Italian ham), Salami, capocollo, olives, and artisanal cheese.

grilled calamari,cajun shrimp,crab cake ,pan seared scallops

grilled calamari, cajun shrimp, crabcake ,pan seared scallops,.

Charcuterie platter for 3

prosciutto di parma (italian ham),Salami,Capicollo,Olives,artisan chesse

Charcuterie platter for 4

Prosciutto di parma (italian ham),Salami,Capicollo,Olives ,artisanal chesse

Risotto E Pasta

V arborio rice, wild mushrooms, gorgonzola cheese, shaved parmigiano reggiano, and truffle oil drizzle.

Penne, pancetta (Italian bacon), green onions, and vodka rose sauce.

Jumbo ravioli stuffed with mushrooms, roasted red pepper rose sauce and topped with baby arugula.

Goat cheese-stuffed pasta, chicken, zucchini, diced tomato, and alfredo cream sauce.

Spaghetti with shrimp, calamari, mussels, crab legs, light basil tomato sauce.

Rigatoni with rosemary marinated beef tenderloin strips, mushrooms, spinach, and cream sauce topped with toasted walnuts.

Orecchiette Con Salsiccia

Ear shaped pasta, Italian sausage, mixed mushrooms, sundried tomato, and Aglio e olio.

Penne, grilled chicken breast, sundried tomato, and arugula pesto cream sauce.

Baked ear-shaped pasta with bolognese sauce, topped with mozzarella cheese.

Gnocchi with shrimp, diced tomatoes, green onion, and rose sauce.

Mains

Roasted rack of lamb crusted with grainy mustard, pistachio, and rosemary port wine reduction.

Red wine braised centre cut veal shank, parmesan risotto.

Grilled certified organic Salmon, lemon pesto beurre blanc.

Pan-seared chicken breast, sundried tomato, shiitake mushrooms, and saffron lemon cream sauce.

Veal scaloppini, prosciutto (Italian ham) mushroom cream sauce or veal scallopini, capers, and lemon sauce.

Veal scaloppini, prosciutto (Italian ham) mushroom cream sauce or veal scallopini, capers, and lemon sauce.

8 oz grilled beef tenderloin filet, peppercorn, shallots, port wine, and compound butter.

PIZZA

tomato sauce,ground sausage,rapini,sato, goat cheese, mozzarella

assorted mushrooms,fior di latte mozzarella ,truffle oil

Tomato sauce, Soppressata, Salami, Red onion,Black olives, fior di latte ,Mozzarella

Tomato sauce ,Fior di latte ,Fresh basil

Desserts

Layers of espresso dipped Savoiardi cookies in a delicate mascarpone cheese mixture. Italian classic that's always a treat.

Homemade new york cheesecake with fresh seasonal coulis puree.

Traditional chocolate ganache with walnuts.