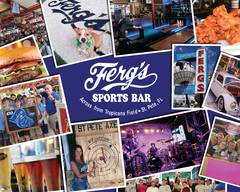 Ferg's Sports Bar
View delivery time and booking fee.
Location and hours
1320 Central Ave, St. Petersburg, FL 33705-1654
Sunday - Thursday
11:00 AM - 09:00 PM
Menu
Friday - Saturday
11:00 AM - 01:00 AM
Menu
11:00 AM - 09:00 PM
Menu
¢ • Burgers
 • 
American
 • 
Sandwiches
 • 
Local Eats
1320 Central Ave, St. Petersburg, FL 33705-1654 • More info
Excellent value
 • 
Followed order notes
 • 
Sustainable packaging
---
Starters

Ferg's Famous Wings (10 pcs)

Smoked combination of mahi-mahi, amberjack with crackers, and vegetables.

All-white meat crispy classics with ferg's southern BBQ sauce.

Freshly made tortilla chips topped with refried beans, queso cheese, jalapenos, tomatoes, black olives with salsa, and sour cream.

Salads

Our house salad topped with Cheddar cheese and crumbled bacon.

Fresh greens, cucumbers, vine ripe tomatoes, carrots, and red onion.

Crisp combo of fresh Romaine, croutons, and Caesar dressing.

Classics

The Major Leaguer (1/2 lb)

1/2 lb. beef pattie charbroiled to perfection with your choice of cheese.

Tender juicy chicken breast and grilled or fried.

House-made, tender, pulled smoked pork butt topped with our honey BBQ sauce on a toasted brioche roll and served with coleslaw.

Smoked Turkey breast, bacon, lettuce, tomato, and ranch dressing wrapped in a spinach tortilla.

Blackened chicken, romaine lettuce, croutons, and Parmesan cheese.

About a pound of thin sliced, warm roast beef & au jus on a Kimmelweck roll

Made fresh daily in the Ybor tradition.

Ferg's Flatbreads

Peppers, onions, mushrooms, & shaved ribeye on a garlic crust with Mozzarella

Basil, marinara, garlic & fresh Mozzarella

Spinach, artichoke hearts, chicken & feta on a garlic crust with Mozzarella

Submarine Sandwiches

Parmesan Sub - Sausage, Chicken or Eggplant

Half 6" Sub - Baked submarine with marinara sauce, fresh basil, Parmesan & Mozzarella cheeses. Served on toasted Costanzo's white roll.