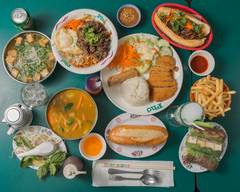 PHO 38th
4.6
(113)
  •  
View delivery time and booking fee.
Location and hours
3815 S Steele St, Tacoma, WA 98409
Every Day
10:00 AM - 09:45 PM
This place is among the 3 most popular spots for Vietnamese takeout in all of Tacoma. Love milkshake takeout as much as the rest of your city? You'll be happy to know it's offered at PHO 38th. Wondering what to order at this evening go-to? PHO 38th customers might say the 02.raw beef and brisket pho, which is one of the most ordered items...
Show more
This place is among the 3 most popular spots for Vietnamese takeout in all of Tacoma. Love milkshake takeout as much as the rest of your city? You'll be happy to know it's offered at PHO 38th. Wondering what to order at this evening go-to? PHO 38th customers might say the 02.raw beef and brisket pho, which is one of the most ordered items on the entire menu. • $ •
Asian
 • 
Asian Fusion
 • 
Korean
 • 
Family Friendly
3815 S Steele St, Tacoma, WA 98409 • More info
---
Appetizers

Minced pork and vegetable.

Shrimp and ham of pork. Salad and rice vermicelli.

A8.Spring Roll and Fried Gyoza

A10. Mozzarella Cheese and Fries

Mozzarella cheese three pieces and fries.

A11. Chicken Breast Nuggets

A12. Chicken Breast Nuggets and Fries

Chicken breast nuggets five pieces and fries.

A16. Chocolate Mousse Cake

Noodle Soup

06.Fried Tofu Noodle Soup

Shrimp, imitation crab, and fish balls.

Gyoza, broccoli, and noodles.

02.Raw Beef and Brisket Pho

03.Raw Beef and Meat Balls Pho

21.Brisket and Meatballs Pho

Noodle Salad Bowls

25.Cucumber Prawn and Grilled Pork

26.Cucumber Julienne Pork, Grilled Pork, and Fried Roll

31.Cucumber Grilled Chicken

31E.Cucumber Grilled Chicken and Fried Roll

32.Cucumber Grilled Pork and Fried Roll

36.Cucumber Grilled Chicken and Pork

Rice Plates

22.Julienne Pork, Grilled Pork Chop, and Egg

23.Grilled Chicken and Fried Roll

37.Grilled Pork Chop and Shrimp

38G.Grilled Chicken and Gyoza

38T.Grilled Chicken and Tofu

39G.Grilled Beef and Gyoza

39T.Grilled Beef and Tofu

Sweet Grilled Chicken

G1. Sweet Grilled Chicken

G2. Sweet Grilled Chicken w/ Gyoza

G3. Sweet Grilled Chicken w/Egg Roll

G4. Sweet Grilled Chicken W/ Spring Roll

G5. Sweet Grilled Chicken w/Tofu

G9. Sweet Grilled Chicken with Katsu

G10. Sweet & Spicy Grilled Chicken w/ Katsu

G1S. Spicy Sweet Grilled Chicken

G3S. Spicy Sweet Grilled Chicken & Gyoza

G4S. Spicy Sweet Grilled Chicken & Egg Roll

G5S. Spicy Sweet Grilled Chicken & Spring Roll

G6S. Spicy Sweet Grilled Chicken & Tofu

G7S. Spicy Sweet Grille Tofu

Pho 38th Special Soup

11.Special Hot Spicy Noodle Soup

Spicy

Spicy

The Adventures Choice

17.Brisket, Flank, Tendon, and Tripe Pho

44.Brisket, Flank, and Tripe Pho

45.Brisket, Flank, and Tendon Pho

15.Raw Beef, Flank, Tendon, and Tripe Pho

Vietnamese Sandwiches

B9.Sandwich and French Fries

B10.Sandwich, French Fries, and Soft Drink

B11.Sandwich with Soft Drink

Fried Rice

F7.Combination Fried Rice

Korean Rice Salad Bowls(Bibimbap)

Korean Rice Plates

K8.Grilled Beef with Seasonal Vegetables

K12.Korean BBQ Pork with Seasonal Vegetables

K9.Grilled Chicken with Seasonal Vegetables

K13.Korean BBQ Chicken with Seasonal Vegetables

K10.Grilled Pork with Seasonal Vegetables

K14G.Grilled Chicken and Gyoza

K14T.Grilled Chicken and Tofu

K11.Korean BBQ Beef with Seasonal Vegetables

K15G.Grilled Beef and Gyoza

K15T.Grilled Beef and Tofu

Chinese Foods

C5.Stir Broccoli withRice Noodles

C6.Stir Fried Rice Flakes

C7.Stir Fried Wide Rice Noodle with Rice

Curry Collections

CF.Yellow Curry Fried Rice

CF9.Yellow Curry Fried Rice with Jalapeno

CF10.Yellow Curry Fried Rice with Bacon

Bacon fried rice with vegetable.

Yellow curry with seasonal vegetables and coconut milk.

Panang curry with seasonal vegetables, coconut milk, and peanut butter.

Yellow curry with seasonal vegetables and coconut milk.

Green curry with seasonal vegetables and coconut milk.

Side Orders

Kids Mains

Beverages

Dessert

Vegetarian Pho Noodle Soup

VG. Vegetable Broth w/ Noodle

VS. Vegetable Broth w/ Soft Tofu

VT. Vegetable Broth W/ Fried Tofu

VB. Vegetable Broth W/ Broccoli, Carrot and Mushroom

New Item(Black Tea)