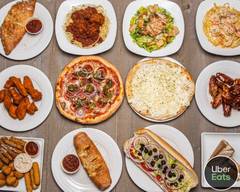 Location and hours
6009 W Sunrise Blvd, Plantation, FL 33313
Sunday
12:00 PM - 9:30 PM
Regular Menu (3PD)
12:00 PM - 9:30 PM
Pizza Menu (3PD)
12:00 PM - 9:30 PM
NA Beverages (3PD)
Monday - Thursday
11:00 AM - 9:30 PM
Regular Menu (3PD)
11:00 AM - 9:30 PM
Pizza Menu (3PD)
11:00 AM - 9:30 PM
NA Beverages (3PD)
Friday - Saturday
11:00 AM - 10:30 PM
Regular Menu (3PD)
11:00 AM - 10:30 PM
Pizza Menu (3PD)
11:00 AM - 10:30 PM
NA Beverages (3PD)
Appetizers

Tossed in your favorite sauce.

Fried Macaroni & Cheese Bites

Served with honey mustard

Fried mushrooms, fried mozzarella sticks and fried zucchini sticks

Salads

Romaine lettuce with croutons and shaved parmesan cheese.

Iceberg lettuce with tomato, onion, pepperoncini, green and black olives.

Served with ham, salami and provolone cheese.

Served with ham, salami, turkey and provolone cheese.

Served with 4 scoops of tuna fish.

Served with 2 scoops of tuna fish.

Served with ham, salami, turkey and provolone cheese.

Iceberg lettuce with tomato, onion, pepperoncini, green and black olives.

Served with ham, salami and provolone cheese.

Dinners

SM Subs

LG Subs

Wings

Sides

Dessert
5-Star Reviews
Hear from people who love this spot
Quality food delivered to my door...
---
Great taste great portion
---
back to the greatness I know them for. Everything was perfect
---
Great pizza! Been a long time since I had a good slice. Thank you! Calzones great and delicious garlic knots too!
---
---
---
I love this place for over 20 years because the food is always the same ,..... Fantastic !
---