Whyld Ass Menu and Delivery in Phoenix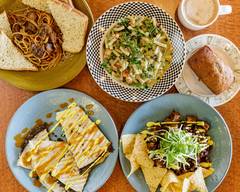 Location and hours
4810 N 7th St, Phoenix, AZ 85012
Sunday
10:00 AM - 08:00 PM
Menu
12:00 PM - 08:00 PM
Drink Menu
Monday
12:00 PM - 08:00 PM
Menu
12:00 PM - 08:00 PM
Drink Menu
Tuesday
Closed
Wednesday
12:00 PM - 08:00 PM
Drink Menu
Thursday
12:00 PM - 08:00 PM
Menu
12:00 PM - 09:00 PM
Drink Menu
Friday
12:00 PM - 08:00 PM
Menu
11:00 AM - 10:00 PM
Drink Menu
Saturday
10:00 AM - 08:00 PM
Menu
11:00 AM - 10:00 PM
Drink Menu
Whyld Ass
4.4 (30 ratings) • American • $$
  •  
Read 5-Star Reviews
  •  
More info
4810 N 7th St, Phoenix, AZ 85012
Tap for hours, address, and more
Enter your address above to see fees, and delivery + pickup estimates.
Wondering what to order? Of the 110 things on the menu at this midday go-to, the BLTA Sandwich is one of the most ordered items and the Nachos and the The Bomb Burrito are two of the items that are most commonly ordered together. • $$ •
American
 • 
Vegan
 • 
Allergy Friendly
Picked for you

Appetizers

Salads

Soups

Black Bean Chipotle Chili

Gluten Free

Sandwiches

Sides

Sweet Potato Hash with Spicy Mustard

Gluten Free

Bigger Plates

Kid's Menu

Breakfast
5-Star Reviews
Hear from people who love this spot
Amazingly inventive and delicious vegan food! I love how healthy AND tasty it is!
---
We love it! Everything is delicious.
---
Delicious vegan food. Always fresh and fast.