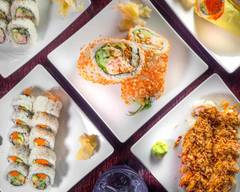 Location and hours
151 Southwest 257th Drive, Troutdale, OR 97060
Every Day
11:00 AM - 7:45 PM
Wasabi Sushi (Troutdale)
151 Southwest 257th Drive, Troutdale, OR 97060
Delivery • Pickup
Opens at 11:00 AM
Sushi Platters

Sunny Side Platter (36 pcs)

California roll, rainbow roll, nigiri (8 pcs), and tuna roll.

Moonlight Platter (52 pcs)

California roll, spicy tuna roll, nigiri (12 pcs), wasabi roll, and dragon roll.

2 California rolls, 2 rainbow rolls, 2 tempura shrimp rolls, spicy tuna rolls, 2 Hawaiian mangos, 2 Alaskan rolls, 2 shrimp delights, and 10 piece nigiri

Crab and tuna filling assortment

Rainbow Platter (100 pcs)

2 rainbow rolls, 2 wasabi rolls, 1 seared Boston roll, Philly roll, sake maki, spicy tuna roll, and 20-piece nigiri.

California roll, spicy tuna roll, rainbow roll, crunchy roll, dragon roll, nigiri (12 pcs), and tempura shrimp roll.

Captains Table Platter (160 pcs)

3 California roll, 2 rainbow roll, 2 caterpillar roll, 2 Cali crunchy roll, tuna roll, 2 temptation roll, 2 wasabi roll, and 20 pieces nigiri

Family Packs

Spider b-risotto, rainbow, tuna poke bowl, California roll, spicy tuna roll.

Sides

Most Popular

Sushi Bowls

Sushi B-Ritto

Sushi Donuts

Sushi Rolls

Promotions
5-Star Reviews
Hear from people who love this spot
---
---
---
---
they make the best sushi...my husband and I love the quality of their food!
---
---
My go-to for a great sushi burrito and friendly service!
---
---
Be sure to ask for chopsticks!
---
---
Delicious! Will definitely be ordering again.
---
Food is always fresh, and tasty, the people are always friendly, best sushi in Troutdale.
---
---