Uncle Uber's Sammich Shop Menu and Delivery in Dallas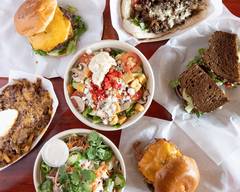 Location and hours
2713 Commerce St, Dallas, TX 75226
Sunday
11:00 AM - 09:30 PM
Menu
11:00 AM - 10:00 PM
Menu
Monday - Thursday
11:00 AM - 09:30 PM
Menu
Friday - Saturday
11:00 AM - 01:00 AM
Menu
Uncle Uber's Sammich Shop
4.5 (121 ratings) • Burgers • $
  •  
Read 5-Star Reviews
  •  
More info
2713 Commerce St, Dallas, TX 75226
Tap for hours, address, and more
Enter your address above to see fees, and delivery + pickup estimates.
Wish you could ask someone what to order here? The Chicken Breast Sandwich is one of the most popular items on the menu and the Dipping Sauces and the Double Patty Burger are two of the items most commonly ordered together at this midday go-to. • $ •
Burgers
 • 
Comfort Food
 • 
Sandwich
Picked for you

Salad

Side Salad (Romaine, Tomato, Red Onion, and Croutons)

Mains

Sammiches

Mo' Sammiches

Burgers

Sides

Side Salad (Romaine, Tomato, Red Onion, and Croutons)

Sweet Potato Waffle Fries

Extra Dressing/Dipping Sauces

Beverages
5-Star Reviews
Hear from people who love this spot
Delicious and fresh, cooked to order
---
I love Uncle Uber's Sammich shop because the food is delicious and there is a whole lot of it. Keep it coming Uncle Uber's!
---
Most consistent sandwich shop on the Eats
---
The grilled chicken sandwich is perfect and always tender!
---
Happy Hippie is the best veggie sandwich ever snf the sweet potato fries are always perfect even after being delivered
---
---
I love this place. Smoked Turkey sandwich with tater tots is my go-to. Great burger and Cuban sandwich as well!!
---
Quality food at a fair price ~ fast delivery
---
---
---