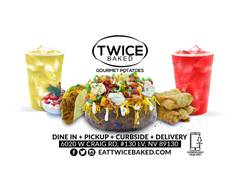 Location and hours
6020 West Craig Road, Las Vegas, NV 89130
Sunday - Monday
Closed
Tuesday - Saturday
10:30 AM - 7:30 PM
Twice Baked Las Vegas
6020 West Craig Road, Las Vegas, NV 89130
Delivery • Pickup
Opens Tuesday 10:30 AM
Twice-Baked Potatoes

Do It Exactly How You Want It

Crispy Rolls

Motley Tacos

Drinks

Sauces

Deserts
5-Star Reviews
Hear from people who love this spot
Always fresh and delicious
---
OMG. Everything … the feel of home when you bite into a potato or one of those Amazing EggRolls. The flavors, The combinations …The Shrimp EggRolls and all of the dipping sauce …The real ranch is my favorite I wish I could have a bottle lol. Twice Baked is a MUST!
---
Wonderful flavor, both on the twice baked potatoes & tacos! New favorite
---
The classic potato was delicious well seasoned and full of flavor and the chicken egg roll was delicious and well seasoned only issue was it was way to much chicken in the egg roll but overall my food was very delicious
---
the stuffed potato with what you want is awesome. Will definitely order again.
---
Food was delicious, hot, and delivered quick.
---
Absolutely tasty and delicious meal. Such a filling meal
---
---
---
---
Food was fresh, with great taste, wish I bought more.
---
So delicious! Friendly staff.
---
amazing flavor and amazing combinations
---
---
Best potatoes w/the best options. Salmon potato is my favorite!
---
---
first time eating here. loved it! you have a lifetime customer now.
---
---
We love Twice Baked!! Every time we come to Vegas we always make it a point to visit twice baked! The food is amazing, well seasoned, and the owners are an absolute delight! You can't go wrong with any of the crispy rolls, potatoes, or our personal favorite the sunrise drink!
---
The food is so good, hot & fresh. You can taste every ingredient, not forgetting to mention, the flavorful journey you'll enjoy with each bite. About to order again!
---
The food was amazing I will definitely be a return customer