Tsuri Menu and Delivery in Los Angeles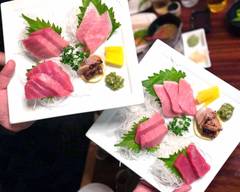 Location and hours
7015 Melrose Ave, Los Angeles, CA 90038
Sunday
4:00 PM - 9:30 PM
Menu
4:00 PM - 9:30 PM
Gluten Free Menu
4:00 PM - 9:30 PM
Vegetarian Menu
4:00 PM - 9:30 PM
Vegan Menu
Monday - Thursday
11:30 AM - 2:30 PM
Menu
5:30 PM - 9:30 PM
Menu
11:30 AM - 2:30 PM
Lunch Special
11:30 AM - 2:30 PM
Gluten Free Menu
5:30 PM - 9:30 PM
Gluten Free Menu
11:30 AM - 2:30 PM
Vegetarian Menu
5:30 PM - 9:30 PM
Vegetarian Menu
11:30 AM - 2:30 PM
Vegan Menu
5:30 PM - 9:30 PM
Vegan Menu
Friday
11:30 AM - 2:30 PM
Menu
5:30 PM - 10:30 PM
Menu
11:30 AM - 2:30 PM
Lunch Special
11:30 AM - 2:30 PM
Gluten Free Menu
5:30 PM - 10:30 PM
Gluten Free Menu
11:30 AM - 2:30 PM
Vegetarian Menu
5:30 PM - 10:30 PM
Vegetarian Menu
11:30 AM - 2:30 PM
Vegan Menu
5:30 PM - 10:30 PM
Vegan Menu
Saturday
4:00 PM - 10:30 PM
Menu
4:00 PM - 10:30 PM
Gluten Free Menu
4:00 PM - 10:30 PM
Vegetarian Menu
4:00 PM - 10:30 PM
Vegan Menu
Tsuri
4.8 (110 ratings) • Japanese:Sushi • $$$$
  •  
More info
7015 Melrose Ave, Los Angeles, CA 90038
Enter your address above to see fees, and delivery + pickup estimates.
Want to taste one of the most ordered items on the menu at this evening go-to? Order the Spicy Tuna Crispy Rice, or try the the Miso Soup and the Salmon Roll, which are two of the items most commonly ordered together. • $$$$ • Japanese: Sushi
 • 
Asian
 • 
Asian Fusion
 • 
Allergy Friendly
 • 
Alcohol
 • 
Eats XL
 • 
Group Friendly
Picked for you

Drinks

"Cozy Chamomile" Herbal Tea (Caffeine Free)

"Sweet Dream" Herbal Tea (Caffeine Free)

"Lemon Ginger" Herbal Tea (Caffeine Free)

Salad

Soup

Starters / Vegetables

Starters / Crispy Rice

Starters / Tempura

Starters / Seafood

A.O.U

Sushi

Sashimi

Chef Roll

Tsuri Special

Handroll

Maki Roll

Vegetable Rolls

Tempura Rolls

Donburi

Hot Kitchen

Sides

GLUTEN FREE FOOD

VEGETARIAN

Vegan

Safety
Frequently asked questions
Can I order Tsuri delivery in Los Angeles with Uber Eats?
Yes. Tsuri delivery is available on Uber Eats in Los Angeles.
Is Tsuri delivery available near me?
Enter your address to see if Tsuri delivery is available to your location in Los Angeles.
How do I order Tsuri delivery online in Los Angeles?
There are 2 ways to place an order on Uber Eats: on the app or online using the Uber Eats website. After you've looked over the Tsuri menu, simply choose the items you'd like to order and add them to your cart. Next, you'll be able to review, place, and track your order.
Where can I find Tsuri online menu prices?
View upfront pricing information for the various items offered by Tsuri here on this page.
How do I get free delivery on my Tsuri order?
To save money on the delivery, consider getting an Uber One membership, if available in your area, as one of its perks is a $0 Delivery Fee on select orders.
How do I pay for my Tsuri order?
Payment is handled via your Uber Eats account.
What's the best thing to order for Tsuri delivery in Los Angeles?
If you're in need of some suggestions for your Tsuri order, check out the items showcased in "Picked for you" on this page.