Treatz (Farnham Road) Menu and Delivery in London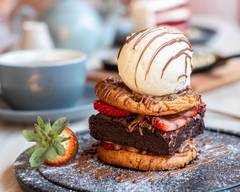 Location and hours
155-157 Farnham Road, Slough, SL1 4XP
Every Day
12:00 PM - 11:45 PM
Treatz (Farnham Road)
4.3 (200+ ratings) • Desserts
  •  
More info
155-157 Farnham Road, Slough, SL1 4XP
Tap for hours, info, and more
Enter your address above to see fees, and delivery + pickup estimates.
Bundles

The Perfect Combo

Cookie Dough For 2

Something For Shaing

Treatz Specials

Terry's Chocolate Orange Cookie Dough

Brookie

Ice Cream Scoops

Treatz Platters

Marshmallow Delight Platter

Strawberry Heaven

Signature Box

Waffles & Crepes

Strawberry Villa

Banutella

Cookies 'n' Cream

Lotus

M&M's

Treatz Ferrero

Treatz Kinder

White Chocolate Heaven

American Pancakes

Strawberry Villa Pancake

Brownie Indulgence Pancake

Banutella Berry Pancake

Lotus Pancake

White Choc Cookie Crumble Pancake

Cookie Dough

Milk Choc Chip Cookie Dough

White Choc Chip Cookie Dough

Oreo Cookie Dough

Aero Mint Cookie Dough

Epic Cookie Dough Lotus

Terry's Chocolate Orange Cookie Dough

Hot Desserts

Brownie Dream

Apple Crumble

Chocolate Heaven Pudding

Honey Haven

Rich Chocolate Pudding

Sticky Toffee Pudding

Mini Doughnuts

Treatz Cakes

Chocolate Fudge Cake

Carrot Cake

Rainbow Cake

Red Velvet Cake

Pistachio Cake

Peanut Butter Stack

Cheesecake

Lotus Milk Cake

Mango Milk Cake

Pistachio & Rose Milk Cake

Milk Chocolate Profiteroles

Waffle Baskets

Chocolate Indulgence Basket

Cookie Crumble Basket

Mr Minty Basket

Strawberry Indulgence Basket

Toffee Punch Basket

Treatz Nutter Basket

Mango Crush Basket

Sundaes

After Eight Sundae

Bubblicious Sundae

Chocolate Treatz Combo

Cookies 'n' Cream Sundae

Ferrero Rocher Sundae

Lotus Biscoff Sundae

Mango Mania Sundae

Raffaello Sundae

Snicker Licker Mania Sundae

Sorbet Crush Sundae

Strawberry Cheesecake Sundae

Toffee Indulgence Sundae

Treatz Chocolate Brownie Indulge Sundae

Milkshakes - VIP Treatz Shakes

Banutella Shake

Chocolate Ferrero Shake

Chop Chip Banana Crumble Shake

Cookies 'n' Cream Shake

Epic Biscoff Shake (Lotus)

Fruit ta Licious Shake

Strawberry Brownie Shake

Milkshakes

Biscuit Shake

Chocolate Bar Shakes

Fresh Gelato Shake

Power Shake

Mango Lassi Shake

Mocktails

Classic Mojito

Strawberry Mojito

Mango Mojito

BerryBull Mojito

Chilled Smoothies

Passion & Pineapple Smoothie

Mango Smoothie

Strawberry Smoothie

Cold Drinks

Passion Fruit & Lemon Ice Tea

Hot Drinks

Treatz Luxury Hot Chocolate

Karak Chai

Karak Chai flask
Treatz (Farnham Road) has a FHRS rating of 5. This information was updated on 01/07/2022. The current rating is on their page on the FSA Website. Allergies, intolerances and dietary requirements: Before ordering, please contact the restaurant directly and ask to speak to a member of staff who can assist if you require information about ingredients and help cater for your needs. Adults need around 2000 kcal a day.