The Vox Kitchen Menu and Delivery in Fountain Valley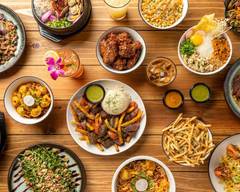 Location and hours
16161 Brookhurst St, Fountain Valley, CA 92708
Sunday - Thursday
10:00 AM - 09:00 PM
Friday - Saturday
10:00 AM - 10:00 PM
The Vox Kitchen
4.8 (200+ ratings) • Asian Fusion • $
  •  
More info
16161 Brookhurst St, Fountain Valley, CA 92708
Tap for hours, address, and more
Enter your address above to see fees, and delivery + pickup estimates.
If you're wondering what's the best thing on the menu, it might be helpful to know that of the 40 things on the menu, the Saltado Shaken Fries is one of the most ordered and the House Garlic Noodle and the Saltado Shaken Fries are two of the items most commonly ordered together at this evening go-to. • $ •
Asian Fusion
 • 
Asian
 • 
Korean
Picked for you

Saltado Shaken Fries (House-Special)

Small Plates: Dishes for sharing… or not.

Entrees: You know you're going to order more than one.

Saltado Shaken Fries (House-Special)

Bone-in Short Rib Soup (Galbitang)

Mushroom & Rib-Eye Stir Fry

Side Dishes: When you just want more food.

Party Trays: Be the hero at your next potluck.

Garlic Chicken Wings (30pcs)

Party portion of our Pear Salad. Serves 3-4.

Party portion of our House Fried Rice. Serves 4-5.

Drinks: C'mon, you can drink water anywhere else.

The taste of crisp golden pear and sweet iced tea.

Iced Green Tea with a hint of floral notes.

Hot green jasmine tea for the traditionalists.