The Kingfisher Menu and Delivery in London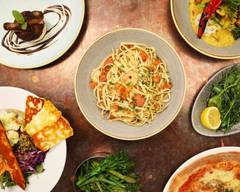 Location and hours
Chertsey Bridge Road, KT16 8LF
Sunday
12:00 PM - 08:00 PM
Sunday Main Menu
09:00 AM - 11:30 AM
Saturday and Sunday Breakfast
Monday - Friday
12:00 PM - 09:00 PM
Midweek and Saturday Main Menu
Saturday
12:00 PM - 09:00 PM
Midweek and Saturday Main Menu
09:00 AM - 12:00 PM
Saturday and Sunday Breakfast
The Kingfisher
Enter your address above to see fees, and delivery + pickup estimates.
BRUNCH
The Kingfisher has a FHRS rating of 5. This information was updated on 12/08/2022. The current rating is on their page on the FSA Website. We are not able to provide delivery and self-collection meals for guests with food allergies or intolerances at this time. However, we can cater for specific dietary requirements at our restaurant so please visit and eat in with us instead. Our kitchens use ingredients containing the following allergens: Celery, Cereals containing Gluten, Crustaceans, Egg, Fish, Lupin, Milk, Molluscs, Mustard, Nuts, Peanuts, Sesame, Soya and Sulphites (over 10ppm) and there is a risk of cross contamination from these allergens. For any questions regarding our dishes, please contact the restaurant directly. Click here if you would like to see detailed allergen information, including the allergen content of specific dishes. Adults need around 2000 kcal a day.
Frequently asked questions
Can I order The Kingfisher delivery in London with Uber Eats?
Yes. The Kingfisher delivery is available on Uber Eats in London.
Is The Kingfisher delivery available near me?
The Kingfisher delivery might not be available everywhere in London, so enter your address to see if it's available near you.
How do I order The Kingfisher delivery online in London?
There are 2 ways to place an order on Uber Eats: on the app or online using the Uber Eats website. After you've looked over the The Kingfisher menu, simply choose the items you'd like to order and add them to your cart. Next, you'll be able to review, place, and track your order.
What's the best thing to order for The Kingfisher delivery in London?
What's best at The Kingfisher is totally up to you and your personal preference. If you're in need of some inspiration, consider trying one of the items featured in "Picked for you."
How do I get $0 Delivery Fee at The Kingfisher in London?
The Delivery Fees may vary depending on a number of factors, like your location. Enter your London address to see the current Delivery Fee. You can also explore the Uber Eats membership and subscription options available in your area to see if you can save money on The Kingfisher delivery with $0 Delivery Fee on select orders.