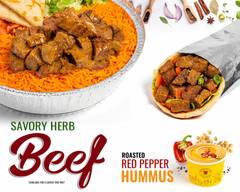 Location and hours
3008 Ella , Suite B, Houston, TX 77018
Sunday
11:00 AM - 11:30 PM
Monday - Thursday
10:30 AM - 11:30 PM
Friday
10:30 AM - 12:30 AM
Saturday
11:00 AM - 12:00 AM
The Halal Guys -Garden Oaks, TX
4.8 (200+ ratings) • Halal • $$
  •  
Read 5-Star Reviews
  •  
More info
3008 Ella , Suite B, Houston, TX 77018
Tap for hours, address, and more
Pickup
5–15 min • 1000+ mi
Picked for you

Chicken & Beef Gyro Platter

Limited Time Offer

Savory Herb Beef & Gyro Platter

Savory Herb Beef & Chicken Platter

Savory Herb Beef & Falafel Platter

Savory Herb Beef Sandwich

Roasted Red Pepper Hummus

Savory Herb Beef & Gyro Sandwich

Savory Herb Beef & Chicken Sandwich

Savory Herb Beef & Falafel Sandwich

Platters

Chicken & Beef Gyro Platter

Beef Gyro & Falafel Platter

Chicken & Falafel Platter

Sandwiches

Chicken & Beef Gyro Sandwich

Beef Gyro & Falafel Sandwich

Chicken & Falafel Sandwich

Sides

Dessert

Beverages
5-Star Reviews
Hear from people who love this spot
Delicious and filling! Great job!
---
---
---
---
The Gyro bowls are always delicious.
---
Always delicious and hits the spot!
---
The Beef Platter was very good! Order was perfect.
---
Thank you for remembering the white sauce today. :)
---
---
Quick delivery ! And amazing food !
---
Healthy, Flavorful, & Fairly Priced.
---
I've eaten Halal Guys forever. The line on 6th ave in NY reached all the way over to 7th ave. Halal Guys Rock.
---
definately quick and very good food