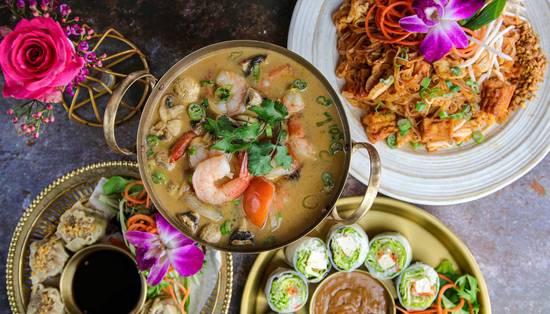 Location and hours
726 San Anselmo Ave, San Anselmo, CA 94960
Sunday
12:00 PM - 3:00 PM
Menu
4:30 PM - 9:00 PM
Menu
Monday
4:30 PM - 9:00 PM
Menu
Tuesday - Friday
11:30 AM - 2:30 PM
Menu
4:30 PM - 9:00 PM
Menu
11:30 AM - 2:30 PM
Lunch
Saturday
12:00 PM - 3:00 PM
Menu
4:30 PM - 9:00 PM
Menu
The Baan Thai Cuisine
Closed • Available at 4:30 PM
Delivery
15–30 min • $0.49
Picked for you

Appetizer

Soup

The Baan's BBQ

Salad

Noodle / Fried Rice

Vegetarian

Curry Dishes

A La Carte

The Baan's Specials

Side Order

Desserts

Beverage
5-Star Reviews
Hear from people who love this spot
---
The best Thai I've had in Marin
---
Delicious Thai food, great service, and careful packaging. Love the variety and quality of dishes!
---
The food is excellent…probably the best Thai food in the Bay Area!
---
---
So many gluten free options! They also have the best dessert - sweet sticky rice with coconut ice cream!
---
---
We love their curry chicken. Everything is good there, you can't go wrong.
---
---
Absolutely amazing dinner to go with Christmas activities!
---
Unbelievably great food with lots of variety
---
---
---
---
Good food- good service all around