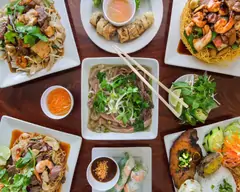 Location and hours
7701 Stacy Road, Ste 700, McKinney, TX 75070
Sunday
11:00 AM - 9:30 PM
Menu
Monday - Friday
11:00 AM - 2:30 PM
Menu
4:00 PM - 9:30 PM
Menu
Saturday
11:00 AM - 9:30 PM
Menu
From customers

Reviews from people who've ordered here

JG

great!

CK

Good food

KP

Very unsuspecting and delicious Vietnamese spot. Everything we tried was amazing. The...

LG

Great food! You help us to feel better, as we were under the weather! Thanks

FP

excellent food

VT

Best pho near frisco.

TM

Pho is great!

CL

delicious

RH

First time I ordered it was fresh and yummy

VT

I've finally found the BEST pho near Frisco. So glad I did. This will be my regular to go...

JP

Very good! I really liked the fried rice with lemongrass chicken, and the fresh rolls were...

CW

Delicious!

EB

Chicken pho was perfect

PN

Expensive but good
From customers
Reviews from people who've ordered here
JG
---
CK
---
KP
Very unsuspecting and delicious Vietnamese spot. Everything we tried was amazing. The garlic noodles were our fave.
---
LG
Great food! You help us to feel better, as we were under the weather! Thanks
---
FP
---
VT
---
TM
---
CL
---
RH
First time I ordered it was fresh and yummy
---
VT
I've finally found the BEST pho near Frisco. So glad I did. This will be my regular to go spot.
---
JP
Very good! I really liked the fried rice with lemongrass chicken, and the fresh rolls were excellent.
---
CW
---
EB
---
PN