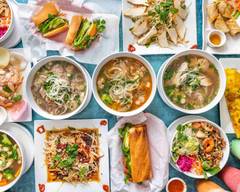 Location and hours
7430 49th St N, Pinellas Park, FL 33781
Sunday - Thursday
10:00 AM - 8:50 PM
Menu
Friday
10:00 AM - 9:50 PM
Menu
Saturday
10:00 AM - 8:50 PM
Menu
10:00 AM - 9:50 PM
Menu
Tasty Pho
7430 49th St N, Pinellas Park, FL 33781
Delivery
Too far to deliver
Pickup
15–25 min • 172.1 mi
Appetizers (Khai Vị)

Special Spring Roll (Gỏi Cuốn Đặc Biệt) (2 pcs)

87% (70)

Shrimp Crunch (Tôm Chiên Giòn) (6 pcs)

83% (24)

Rice Cake (Bánh Bèo Chén) (6 pcs)

Savory Pancake (Bánh Khọt) (8 pcs)

100% (9)

Imperial Egg Roll (Chả Giò) (2 pcs)

Traditional Spring Roll (Goi Cuốn) (2 pcs)

Heavenly Wings (Cánh Gà Chiên) (6 pcs)

Shrimp Dumpling (Bánh Bột Lọc) (6 pcs)

Grilled Pork Meatball Roll (Gỏi Cuốn Nem Nướng)

Summer Roll (Bì Cuốn) (2 pcs)

Chicken Lettuce Wrap (Gà Xào Cuộn Sà Lách)

Fried Tofu (Đậu Hủ Chiên Giòn)

Drinks (Thức Uống)

Vietnamese Milk Coffee (Iced) (Cafe Sữa Đá)

Fresh Squeezed Limeade (Đá Chanh Tươi)

Fresh Coconut Juice (Nước Dừa Tươi)

Pennyworth Juice (Nuoc Rau Má)

Beef Noodle Soup (Phở)

Create Your Own Phở (Phở Tự Chọn)

Broken Rice Plate (Com Tấm)

Special Rice Plate (Com Đĩa)

Fried Rice (Cơm Chiên)

Vermicelli Noodle Salad (Bún)

Pork Noodle Soup (Mì, Hủ Tiếu, and Bánh Canh)

Stir-Fry Noodle (Mì Xào Mềm)

Chef's Specialties (Đặc Biệt)

Congee (Cháo)

Salads (Gỏi or Sà Lách)

Vegetables & Tofu (Đậu Hủ & Rau)

Subs (Bánh Mì)

Desserts (Tráng Miệng)

Sweet Treats (Chè)

Custom Chè (Chè Tự Chọn)

Boba Tea (Trân Châu)
5-Star Reviews
Hear from people who love this spot
---
---
This place has amazing food
---
They were able to accommodate me with a special request that wasn't available on the Uber site. Tasty Pho
---
muy fresca la comida y muy organizada la disfrutamos al máximo
---
---
Seriously , I could eat this everyday ! So good and filling
---
---
best pho and chicken lettuce wraps always SUPER fresh and amazing a weekly staple in our house
---
The packaging of the food was really good. The vermicelli with grilled pork was absolutely delicious and very fresh. I will be ordering from them again next week to try something else with my co-workers. I definitely recommend Tasty Pho.
---
First time. A great experience
---
The pho broth is excellent!!
---
Always fresh, yummy and generous portions. They always get the order right as well.
---
amazing broth, not skimping on anything, tysm
---
Delicious and outstanding delivery