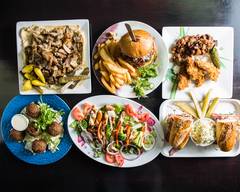 Taqueria Durango Restaurant
View delivery time and booking fee.
Location and hours
Sunday
08:00 AM - 10:00 PM
Monday - Friday
10:00 AM - 10:00 PM
Saturday
08:00 AM - 10:00 PM
(67) on Yelp
•
Read reviews
12358 Western Ave, Blue Island, IL 60406 • More
---
Picked for you

Sincronizada de Chile Relleno

Desayunos

Scrambled eggs fried with tortilla cutoffs, tomato sauce and grated cheese with green or red sauce.

Scrambled eggs with minced tomato, onio and hot peppers.

Eggs served sunny side-up covered with mildly hot tomato sauce.

Scrambled eggs with mexican sausage.

Hamburguesas

Hamburger, drink and fries.

Tortas

Torta de Milanesa de Pollo

Tostadas

Gorditas

Gordita de Rajas con Papa

Green pepper steak, melted cheese and potato.

Gordita de Guisado de Res con Papa

Beef and potato mexican style.

Gordita de Chicharrón en Salsa Verde

Pork skin in green sauce.

Gordita de Carnitas en Salsa Verde

Fried pork with green sauce.

Huaraches

Mariscos

Sopes

Burritos

Sincronizadas

Sincronizada de Carne Asada

Sincronizada de Picadillo

Sincronizada de Chile Relleno

Tacos

Beverage
One of my favorite Mexican spots in the area. Awesome gorditas. There is a service charge fee for using a credit card. I think 3-4%. Still, I always recommend this place.
---
Nothing worse than getting your order wrong. I called our order in and afterwards realized that she never asked if I wanted my tacos on corn or flour tortillas. So immediately called back and gave the girl my name and explained that we need flour. I also added because we all hate corn. Guess what...  
---
My favorite there is the chille rellanos dinner! So good! Seasoned to perfection. Salsa are delicious. Service is great and always friendly! They really stepped up with even better service during the quarantine. I'm will always be a loyal customer, me and my hubby!
---
Grilled chicken is just out of this world. Call in advance to make sure they have it. Oh and their salsa is fantastic too.
---
Super tasty authentic Mexican dishes. Consistently fresh and truly delicious food. Very vegetarian friendly too. Only complaint is limited alcoholic beverage selection. Overall an excellent restaurant
---
Great steak tacos, rice water even better, very good service as well. Always enjoyed, inside was remodeled and the ambiance is good
See more on Yelp