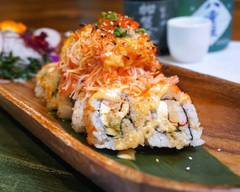 Location and hours
18735 South Dixie Highway, Cutler Bay, FL 33157
Sunday
12:00 PM - 10:30 PM
THIRD PARTY MENU
12:00 PM - 10:30 PM
CUTLER BAY SPECIALS (3rd Party)
Monday - Wednesday
11:00 AM - 9:30 PM
THIRD PARTY MENU
11:00 AM - 9:30 PM
CUTLER BAY SPECIALS (3rd Party)
Thursday
11:00 AM - 10:30 PM
THIRD PARTY MENU
11:00 AM - 10:30 PM
CUTLER BAY SPECIALS (3rd Party)
Friday
11:00 AM - 11:30 PM
THIRD PARTY MENU
11:00 AM - 11:30 PM
CUTLER BAY SPECIALS (3rd Party)
Saturday
12:00 PM - 11:30 PM
THIRD PARTY MENU
12:00 PM - 11:30 PM
CUTLER BAY SPECIALS (3rd Party)
Delivery
40–55 min • $0.49
Picked for you

HAND ROLLS

HIBACHI DINNERS

KATSU DINNERS

NOODLES

PARTY PLATTERS

REGULAR APPETIZERS

FRIED RICES

SOUPS OR SALADS

SUSHI & SASHIMI

SUSHI APPETIZERS

SUSHI ROLLS

TERIYAKI DINNERS

VEGETABLE APPETIZERS

KIDS

EXTRAS

DESSERTS

DRINKS
5-Star Reviews
Hear from people who love this spot
The sushi is always fresh and tasty
---
Sushi sake in the Cutler Bay Area is one of my favorite restaurants to frequently get food delivered from. Their attention to detail in presentation is special and the quality of food is always great.
---
The sushi is very delicious best I've had
---
I love sushi sake. The food is always fresh and delicious.
---
---
The sushi is always fresh. Delivery is fast. Great presentation, even that it's to go. Always put the side items we request.
---
---
---
---
I just love sushi overall
---
Rolls are always fresh and the fried rice is amazing
---
Rolls were packed well and were delicious.
---
The food is tasty and fresh and the orders always correct. The preparation is quick and good prices too.
---
Fresh, delicious food and a great variety!
---
Love the fresh tasting food here
---
Angel rolls my favorite & the fried rice I love it.
---
I love the shrimp fried rice so much! My orders have included this every time 😅 I am a picky eater and this is just perfect for me :)
---
I love their chicken teriyaki! My favorite comfort food.
---
---
bc it makes me yummy in my tummy
---
---
It's really close to my house, the food is amazing, place is spectacular, and service is incredible!
---
---
---
---
---
Wifey and I love this place!!! Awesome food :)
---
---
---
I love the place, the service and the food.
---
---