Subway (Trafalgar Street) Menu and Delivery in Manchester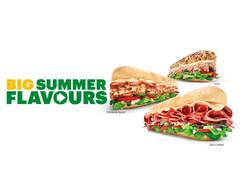 Location and hours
Trafalgar Street, BURNLEY, BURNLEY, Burnley BB11 1
Sunday
09:00 AM - 08:00 PM
Monday - Saturday
07:00 AM - 08:00 PM
Subway (Trafalgar Street)
3.4 (43 ratings) • Sandwich • $
  •  
More info
Trafalgar Street, BURNLEY, BURNLEY, Burnley BB11 1
Tap for hours, address, and more
Enter your address above to see fees, and delivery + pickup estimates.
Picked for you

Meal Deals

What's new?

Tropicana Orange Juice 250ml

All Subs

Wraps

Salad Box

Hot Sides

DORITOS® Lightly Salted Nachos

DORITOS® FLAMIN' HOT® Nachos

Nacho Chicken Bites - 4 pieces

Nacho Chicken Bites - 6 pieces

Nacho Chicken Bites - 9 pieces

Treats

Cadbury's® Caramel Muffin

Bottled Drinks

Robinsons Fruit Shoot Apple & Blackcurrent 200ml

Tropicana Orange Juice 250ml

Cookies

White Chocolate Chip Macadamia Nut Cookie

Rainbow Chocolate Chip Cookie

Vegan Double Chocolate Cookie

3x Double Chocolate Cookies

3x Rainbow Candy Chip Cookies

3x Chocolate Chunk Cookies

Cookies are great, but Subway® Cookies are on another level. And choosing three of these sweet treats is always better than one.

Dips
Subway (Trafalgar Street) has a FHRS rating of 5. This information was updated on 28/06/2022. The current rating is on their page on the FSA Website. For information about our ingredients please click here for allergen and nutritional information. Calories may vary due to customisation, please refer to our website for more information. Adults need around 2000 kcal a day.