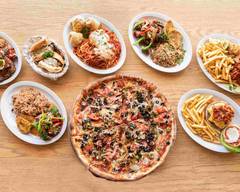 Styx Sports Bar and Grill
View delivery time and booking fee.
Location and hours
Every Day
12:00 PM - 02:00 AM
(17) on Yelp
•
Read reviews
15346 W Dixie Hwy, North Miami Beach, FL 33162 • More
Wow! It took me a while to look this place up because I figured this place was called "Sticks" not "Styx" I love and miss Styx late night delivery deeply since I have left NMB. This place has delivery until 4am, and the delivery is always prompt and the delivery guys are usually pleasant as...  
---
I love this place.... Alexis was PHENOMINAL... felt at home prices were great.... drinks were affordable and.... AMAZING food... Totally recommend.... Thank you
---
Came here to watch a few afternoon games. Very laid back atmosphere and the dress code is casual. Perfect place to grab a few drinks at a decent price and shoot a few rounds of pool. Wing deals are pretty good if you come in a group. Parking in the rear. Pretty consistent with most...  
---
Came here for artists showcase. Couldn't call this a good place for it.. no stage. As of the sports bar? Pool tables and TVs for games to watch. Dirty like any sports bar in a similar area. Staff seemed friendly. A lot of pool tables and different authentic food served.
---
First thing first the food is pretty good. I lovee the buffalo shrimp. The kitchen and pool hall are in separate places so you can just come and get food. As far as the pool hall. The bathroom is nasty. The bartenders are great and make drinks nice and stiff. The music could change a...  
---
Saturday night is the place to be! $10.00 to get in and good vibes. Drinks are not that expensive and this place have good wings and good music.
See more on Yelp