Soulgreen Menu and Delivery in Milan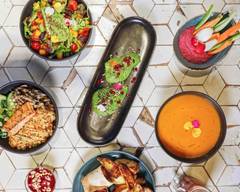 Location and hours
Piazzale Principessa Clotilde, Milano, EMEA 20124
Sunday
12:00 PM - 10:30 PM
Soulgreen menu spring
Monday - Thursday
12:00 PM - 02:30 PM
Soulgreen menu spring
06:00 PM - 10:30 PM
Soulgreen menu spring
Friday
12:00 PM - 02:30 PM
Soulgreen menu spring
06:00 PM - 11:00 PM
Soulgreen menu spring
Saturday
12:00 PM - 11:00 PM
Soulgreen menu spring
Soulgreen
Enter your address above to see fees, and delivery + pickup estimates.
Picked for you

Ginger Head 40cl

Detox Green 40cl

Vitamin Blast 40cl

Chocolate Slice

Avocado Salad

Extra

Posate 100% biodegradabili e compostabili

Forchetta, coltello, cucchiaio e il tovagliolo, racchiusi in un packaging compostabile

Make your bowl

Starters

Avocado Slice

Beetroot Hummus & Cruditè

Nachos Gluten Free

Nachos & Guacamole

Lebanese Nachos

Crisp & Dips

First Courses

Fish Specials

Sides

Signature Bowls

Lebanese bowl

Salads

Soulgreen Salad

Avocado Salad

Quinoa Salad

Soul Tuna Salad

Bell Pepper Salad

Wraps & Toasts (only Lunch)

Soul Avo Toast

Soul dips

Guacamole

Hummus

Bbq sauce

Vegan mayo

Ketchup

Salsa soia Gluten Free

Soul sweets

Cacao mousse

Flavoured Ice Creams

Fruit Salad

Fruit Salad & Ice Cream

Mini cookies - 4 pezzi

Mango Cheescake

Chocolate Slice

Soul Juices & Smoothies

Ginger Head 40cl

Detox Green 40cl

Vitamin Blast 40cl

Birre & Soft Drinks

Carry On - Apa 33cl

Aranciata rossa - Cortese BIO

Vini

Santa Margherita - Prosecco DOCG

La Valle - Franciacorta Brut Primum

La Valle - Franciacorta Saten

La Valle - Franciacorta Rosè brut

Aldeno - Altinate Trento Doc

Bastianich - Ribolla Gialla Plus spumantizzato

Kornell - Gewurztraminer "Damian" 2021

Bastianich - Ribolla gialla 2021

La Source - Chardonnay 2019

Bastianich - Sauvignon blanc 2021

Kornell - Lagrein "GREIF" 2020

Longo - Primitivo Lamia 2019

Zyme - Valpolicella Classico 2020
Frequently asked questions
Can I order Soulgreen delivery in Milan with Uber Eats?
Yes. Soulgreen delivery is available on Uber Eats in Milan.
Is Soulgreen delivery available near me?
Soulgreen delivery might not be available everywhere in Milan, so enter your address to see if it's available near you.
How do I order Soulgreen delivery online in Milan?
There are 2 ways to place an order on Uber Eats: on the app or online using the Uber Eats website. After you've looked over the Soulgreen menu, simply choose the items you'd like to order and add them to your cart. Next, you'll be able to review, place, and track your order.
What's the best thing to order for Soulgreen delivery in Milan?
What's best at Soulgreen is totally up to you and your personal preference. If you're in need of some inspiration, consider trying one of the items featured in "Picked for you."
How do I get $0 Delivery Fee at Soulgreen in Milan?
The Delivery Fees may vary depending on a number of factors, like your location. Enter your Milan address to see the current Delivery Fee. You can also explore the Uber Eats membership and subscription options available in your area to see if you can save money on Soulgreen delivery with $0 Delivery Fee on select orders.