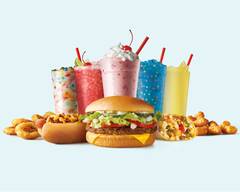 Sonic Drive-In (2043 Olympic St)
View delivery time and booking fee.
Location and hours
Every Day
09:00 AM - 08:00 PM
This spot is among the 3 most popular Burger delivery spots in all of Springfield. You might be wondering what's the best thing on the menu. Of the 53 things on the menu, the Slushes is one of the most ordered and the Hand Mixed Classic Shakes and the Mozzarella Sticks are two of the items most commonly ordered together at this evening go...
Show more
This spot is among the 3 most popular Burger delivery spots in all of Springfield. You might be wondering what's the best thing on the menu. Of the 53 things on the menu, the Slushes is one of the most ordered and the Hand Mixed Classic Shakes and the Mozzarella Sticks are two of the items most commonly ordered together at this evening go-to. • ₩ •
American
 • 
Burgers
 • 
Breakfast and Brunch
2043 Olympic St, Springfield, OR 97477 • More
---
Snacks and Sides

Soft Pretzel twist coated with salt and served with cheese sauce

Tots with Chili and Cheese.

Fries with Chili and Cheese.

(we recommend tots, they travel better )

(we recommend tots, they travel better )

Regular Jumbo Popcorn Chicken.

A La Carte Entrees

Single Patty Sonic Cheeseburger with sauce, onion, pickles, lettuce, and tomato.

SuperSONIC Double Cheeseburger

Double Meat, Double Cheese, choice of condiment and onion, pickle, lettuce, and tomato

SuperSONIC Bacon Double Cheeseburger

Double Meat, Double Cheese, with Bacon, Mayo, Lettuce and Tomatoes

Bacon Cheeseburger Toaster

Chili Cheese or American Dog (relish, mustard, ketchup and onions)

Footlong Quarter Pound Coney

Chili and Cheese or All American (Mustard, Ketchup, Onion, and Relish)

Regular Jumbo Popcorn Chicken

Select Grilled or Crispy served on a Brioche Bun with mayo, lettuce, and tomato

Egg and Cheese with Sausage or Bacon

Ultimate Meat & Cheese or SuperSONIC® Breakfast Burrito

Ultimate Meat (Bacon, Sausage, Cheese, 4 tots, and Baja sauce) or Supersonic Breakfast (jalapenos, cheese, 4 tater tots, onions, and tomatoes)

Texas Toast with Egg, Cheese choice of Bacon or Sausage

Broiche Breakfast Sandwich

With real cream cheese frosting.

Four Toast Sticks with Syrup

Everyday Deals

Mayo, Pickles, Onions, Lettuce and Tomatoes

Quarter Pound Double Cheeseburger

Mustard, Pickles and Ketchup with Double Meat and Cheese

Mayo, Lettuce with 2 Chicken Strips

Grilled Cheese on Texas Toast

Wacky Pack Kids' Meals

Crispy Tenders Kid's Meal

Grilled Cheese Kid's Meal

Ultimate Drink Stop

Summer Edition Dragon Fruit Red Bull® Slush

Red Bull® Summer Edition and Sonic Slush coming together for a taste of Dragon Fruit

Slush hand-mixed with Red Bull® Energy Drink

Slush hand-mixed with Red Bull® Energy Drink

Limeades with Fresh Limes

Green Mountain Iced Coffe

Frozen Zone

Hand Mixed Classic Shakes