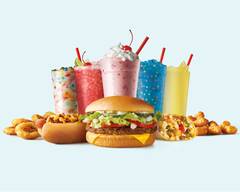 Sonic (2400 E Coalton Rd)
View delivery time and booking fee.
Location and hours
Sunday - Thursday
08:00 AM - 08:45 PM
Friday - Saturday
08:00 AM - 09:45 PM
This place is so well-liked that it's one of the 3 most popular American delivery spots in all of Broomfield. Wondering what's best here at this evening go-to? Users love the Fries, which is one of the most popular items on the menu, as well as the Mozzarella Sticks and the Slushes, which are two of the items most commonly ordered togethe...
Show more
This place is so well-liked that it's one of the 3 most popular American delivery spots in all of Broomfield. Wondering what's best here at this evening go-to? Users love the Fries, which is one of the most popular items on the menu, as well as the Mozzarella Sticks and the Slushes, which are two of the items most commonly ordered together. • ¢¢ •
American
 • 
Fast Food
 • 
Burgers
2400 E Coalton Rd, Superior, CO 80027 • More
---
Picked for you

Regular Jumbo Popcorn Chicken

Tots with Chili and Cheese

Super Sonic Double Cheeseburger

Premium A La Carte Entrees

Super Sonic Double Cheeseburger

Super Sonic Bacon Double Cheeseburger

Super Sonic Jalapeno Double Cheeseburger

American dog or chili cheese coney.

Footlong Quarter Pound Coney

Regular Jumbo Popcorn Chicken

Classic Grilled Chicken Sandwich

Classic Crispy Chicken Sandwich

Ultimate Meat and Cheese Breakfast Burrito

Super Sonic Breakfast Burrito

Crois Sonic Breakfast Sandwich

With cream cheese frosting.

Sauced Jumbo Popcorn Chicken

Premium Snacks and Sides

Tots with Chili and Cheese

Fries with Chili and Cheese

Regular Jumbo Popcorn Chicken

Premium Everyday Deals

Quarter Pound Double Cheeseburger

Premium Wacky Pack Kid's Meal

Chicken Tenders Kid's Meals

Grilled Cheese Kid's Meal

Premium Ultimate Drink Stop

Signature Limeades with Fresh Limes

Includes strawberry only.

Green Mountain Hot Coffee

Green Mountain Iced Coffee

Premium Frozen Zone

Hand Mixed Classic Shakes