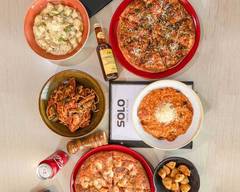 Location and hours
50b King St, Sandy Bay Tas 7005
Sunday
5:00 PM - 8:50 PM
Monday
Closed
Tuesday - Saturday
5:00 PM - 8:50 PM
Solo Pasta & Pizza
Closed • Available at 5:00 PM
Delivery
20–35 min • $0.99
5-Star Reviews
Hear from people who love this spot
TK
---
KL
---
MS
---
CG
---
DJ
---
PW
---
LC
I've never had a bad meal from here. Absolutely beautiful and very tasty
---
SB
---
HB
Loved the pizzas, great gluten free bases
---
LC
every single time we have ordered from here, it has been fantastic, tasty and a good size servings.
---
DM
pizza arrived only warm (no fault of restaurant) but was still delicious could not believe how good the presence were
---
RD
---
PJ
Love the Robustelli Pizza !!
---
LN
Pizzas are amazing. However somehow *always* gets the drinks wrong.
---
LN
Amazing pizza. Reliable Gluten Free.
---
LT
Delicious pizza and pasta, the whole family enjoyed it. Tasted nice and fresh after delivery.
---
JS
---
MW
---
ET
Delicious food that is great quality and decent serving sizes.
---
MG
---
BC
---
LW
---
DL
---
SC
---
AR
---
RB