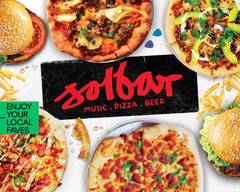 Location and hours
12-20 Ocean St, 10, Maroochydore, Queensland 4558
Sunday
11:30 AM - 7:30 PM
2022 MENU
Monday - Tuesday
11:30 AM - 3:00 PM
2022 MENU
4:30 PM - 7:30 PM
2022 MENU
Wednesday - Saturday
11:30 AM - 8:00 PM
2022 MENU
Solbar
4.6 (62 ratings) • Pizza • $$
  •  
More info
12-20 Ocean St, 10, Maroochydore, Queensland 4558
Tap for hours, info, and more
Pickup
10–20 min • 110.4 KM
Picked for you

The Pineapple Liaison

Buttermilk Chicken Bites

The Kid Lambroi ft Justin Feta

The Childish Gambino

Megadeath

Start & Share

Solbar Pickles

Tofu Mofo

Buttermilk Chicken Bites

Buttermilk Cauliflower Bites

Chips

Sweet Potato Chips

On A Roll

Cardi Tree

Dirrrty Cheese Burger

Southern Fried Chicken Burger

Pizza

The Vampire Weekend

The Smashing Pumpkins

The Chats

The G Flip Calzone

Some Pizza That I Used To Know

Ruby's Field

The Birds of Tokyo

The Polish Club

The Spicey Jane

The Pineapple Liaison

Scott Green

The Mariachi El Bronx

The Childish Gambino

Megadeath

The Kid Lambroi ft Justin Feta

Headliners

Rump Steak

Eggplant Schnitty

Eggplant Parmy
Frequently asked questions
Can I order Solbar delivery in Sunshine Coast with Uber Eats?
Yes. Solbar delivery is available on Uber Eats in Sunshine Coast.
Is Solbar delivery available near me?
Solbar delivery might not be available everywhere in Sunshine Coast, so enter your address to see if it's available near you.
How do I order Solbar delivery online in Sunshine Coast?
There are 2 ways to place an order on Uber Eats: on the app or online using the Uber Eats website. After you've looked over the Solbar menu, simply choose the items you'd like to order and add them to your cart. Next, you'll be able to review, place, and track your order.
What's the best thing to order for Solbar delivery in Sunshine Coast?
What's best at Solbar is totally up to you and your personal preference. If you're in need of some inspiration, consider trying one of the items featured in "Picked for you."
How do I get $0 Delivery Fee at Solbar in Sunshine Coast?
The Delivery Fees may vary depending on a number of factors, like your location. Enter your Sunshine Coast address to see the current Delivery Fee. You can also explore the Uber Eats membership and subscription options available in your area to see if you can save money on Solbar delivery with $0 Delivery Fee on select orders.