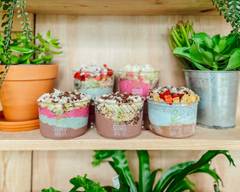 Location and hours
500 S Howard Ave, Tampa, FL 33606
Sunday
8:00 AM - 10:00 PM
Monday - Friday
7:00 AM - 10:00 PM
Saturday
8:00 AM - 10:00 PM
SOHO Juice Company (SOHO)
500 S Howard Ave, Tampa, FL 33606
Delivery
Too far to deliver
LIMITED TIME OPTIONS!

Wonderdough Cookie Dough Bites - Golden Mylk

100% (3)

RETAIL

Almond Butter – Crunchy 9oz Jar

Almond Butter – Creamy 9oz Jar

Cashew Butter – Smooth 9oz Jar

Peanut Butter – Creamy 9oz Jar

WELLNESS BEVERAGES

Chilled Matcha Latte (KETO – morning, energy, pick me up)

92% (13)

Chilled Mushroom Mocha (morning, energy, pick me up)

92% (13)

Chilled Golden Mylk (night time, chill)

100% (12)

Mushroom Mocha (morning, energy, pick me up)

VEGAN CRAVINGS

BLENDED BEVERAGES

Meal Replacement Smoothies

meal replacement smoothies are made with whole fruit and other superfood ingredients. we don't use any ice in our smoothies so they are super thick and nutrient dense!

Plant-Based Protein Shakes

plant-based protein shakes are made with whole fruit and our homemade plant-based protein blends (20g/27g). we don't use any ice in our plant-based protein shakes so they are super thick and nutrient dense! our plant-based protein blends are made with yellow pea, sunflower seed, pumpkin seed, sacha inchi, cranberry seed and jerusalem artichoke.

Nana Shakes

nana shakes are indulgent shakes made with banana. we don't use any ice in our nana shakes so they are super thick and nutrient dense!

SMOOTHIE SUPERFOOD BOWLS

LAYERED SUPERFOOD BOWLS

UNLIMITED SUPERFOOD BOWLS

ALTERNATIVE BEVERAGES

BULK SUPERFOODS
5-Star Reviews
Hear from people who love this spot
---
---
---
Kasey did an amazing job ensuring my order was perfect. Everything is delicious as usual. Thank you!
---
They make the best biebs smoothie!!!
---
Thank you to the wonderful & kind staff who accommodated a special request after I has surgery. The best smoothies & the best staff! THANK YOU!!!!
---
My bowl was perfect. Thank you Angel
---
Wouldn't get my vegan treats anywhere else
---
Diana did a great job! Thank you very mich it was delicious
---
My favorite smoothie place!! Consistently taste amazing! A+
---
---
Tasty, convenient and thoughtful packaging.
---
---
---
Exactly what I wanted. Thanks!
---
---
Thank you Izzy for making sure my food was yummy and tasty !
---
Thanks to Julia that made my order! I hope I spelled your name right
---
---
always delicious and healthy
---
---
Literally the best smoothies and bowls!!
---
---
I'll tell you what, SOHO Juice Co. is better than mud racin' after a rainstorm ya hear! Thank you Julitza!
---
Omg everything is so fresh and filling . I eat a bowl at least 4 times a week
---
"Everything was packaged so nicely, the branding has positive affirmations on them, and it's just what I needed to hear this morning, ""Never give up because great things take time."" Highly recommend. "
---
Rue did a great job packing my bowl and it was perfect! The acai bowl was so good and proportioned well.
---
---
---
---
---
---
Taylor and the staff are super chill. great smoothies! will come back.
---
---
---
1st time trying SOHO Juice, delicious! Extensive menu to look at and or create your own. Packaged nicely and I liked the insulated bag. Definitely will order again.
---
Thank you Abbie for making my delicious Cloud 9 bowl!
---
---
Easily one of my favorite spots in Florida! 🙌
---
I made a mistake on my order, but Rylann and Evan made sure everything was perfect. SOHO Juice Co. is the best!
---
Great service! thank you!
---
Ryland did a great job making my smoothie
---
---
My favorites are the protein bites, the daydreamer bowl, and the Golden mylk night time drink. Delicious!! ⭐⭐⭐⭐⭐
---
It was delicious and fresh :)
---
So fresh and delicious! Perfectly made.
---
Evan for the win making my CEO & CFO very happy at lunch time!
---
Healthy. Variety. Never disappoints
---
Love everything here. All of the ingredients are so fresh!
---
Evan makes a GREAT acai bowl!
---
absolutely delicious, guilt free and amazing.
---
This is the best acai bowl in tampa
---
---
---
Phenomenal customizable bowl! Very impressed! We need a Tampa location desperately!!
---
Fire & No place like this!
---
---
Christina packaged my order perfectly and the smoothie was delicious! The extra care to attention was a great touch.
---
---
thanks Revy it was perfect!
---
---
Great job, Lisa took care of my order and it was very tasty!!
---
Robyne made our order with extra love today. Everything was extra delicious and the coconut tastes so fresh!
---
New customer and will definitely order again
---
---
---
---
Eating healthy never tasted so good!
---
---
Best quality açaí bowls ever
---
---
Julitia did the best job!! amazing bowls
---
Great food. Open late which was surprising. Delivery was fast.
---
Always fresh, and amazing!!
---
Alex made a great bowl for me! I ordered this bowl yesterday and loved it so much i ordered it again today!
---
---
Shayli made my bowl perfectly! The chia pudding is sweet and delicious. A must try!
---
Everything was amazing and Kenya made sure everything I ordered was in my bag!
---
Madison did a fabulous job preparing my yummy lunch! Thank her for me plz!