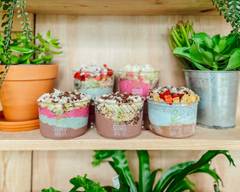 Location and hours
3573 Lake Emma Road, Lake Mary, FL 32746
Sunday
8:00 AM - 10:00 PM
Monday - Friday
7:00 AM - 10:00 PM
Saturday
8:00 AM - 10:00 PM
SOHO Juice Company (Lake Mary)
Wonderdough Protein Bites - Funfetti

Wonderdough Cookie Dough Bites - Chocolate Chip

Wonderdough Protein Bites - Brownie

Buy 1, Get 1 Free

LIMITED TIME OPTIONS!

Wonderdough Cookie Dough Bites - Golden Mylk

WELLNESS BEVERAGES

Chilled Golden Mylk (night time, chill)

Mushroom Mocha (morning, energy, pick me up)

87% (8)

Golden Mylk (night time, chill)

60% (5)

Matcha Latte (KETO – morning, energy, pick me up)

VEGAN CRAVINGS

Wonderdough Cookie Dough Bites - Chocolate Chip

92% (25)

Wonderdough Protein Bites - Funfetti

100% (27)

Wonderdough Protein Bites - Brownie

97% (43)

BLENDED BEVERAGES

Meal Replacement Smoothies

meal replacement smoothies are made with whole fruit and other superfood ingredients. we don't use any ice in our smoothies so they are super thick and nutrient dense!

Plant-Based Protein Shakes

plant-based protein shakes are made with whole fruit and our homemade plant-based protein blends (20g/27g). we don't use any ice in our plant-based protein shakes so they are super thick and nutrient dense! our plant-based protein blends are made with yellow pea, sunflower seed, pumpkin seed, sacha inchi, cranberry seed and jerusalem artichoke.

Nana Shakes

nana shakes are indulgent shakes made with banana. we don't use any ice in our nana shakes so they are super thick and nutrient dense!

SMOOTHIE SUPERFOOD BOWLS

LAYERED SUPERFOOD BOWLS

UNLIMITED SUPERFOOD BOWLS

ALTERNATIVE BEVERAGES

BULK SUPERFOODS
5-Star Reviews
Hear from people who love this spot
A delicious acai bowl! So refreshing and healthy. David did such a great job creating my bowl.
---
---
Best customer service by David and order perfectly serve . Highly recommend
---
smoothie and the wonder dough bites were delicious!
---
A little pricey, but very tasty and surprisingly filling. Perfectly ripe banana slices. Naomi did a great job assembling the bowl.
---
---
---
The smoothies here are fresh, healthy, and tasteful.
---
It always tastes phenomenal!
---
So delicious, whenever I get a sweet tooth. This is such a treat and hits every craving without the guilt.
---
---
---
love it fresh delicious and beautiful everyone wanted to know what I was eating 😆
---
my first time and I absolutely loved it! will be ordering again!
---
Delicious food that's very fresh
---
Extremely delicious, satisfying, and healthy. I come here when I really need some sustenance.
---
Great flavor and bright colors!
---
---
Great delivery good stuff
---
---
---
---
Customizable, delicious, quality ingredients.
---
---
---
---
Delicious! I had the Salted Chocolate Nana Shake and a bowl with a blue base and a hard shell topper- it was super fresh and tasted amazing!
---
---
The açaí bowl tasted amazing and Briana was really kind!
---
---
One of my favorites spots!!!
---
---
---
---
The BEST, Jonathan and all of them rock it and should be given bonuses. I get these when I am working from home and they have been a lifesaver.
---
---
---
Never go wrong with their açaí bowls
---
Beautifully prepared, thank you Miel for ensuring everything was correct! :)
---
---
Kylie double checked and packed my order beautifully and everything is delicious!
---
So tasty! Thanks Kylie for making my smoothie dreams come true!
---
The best acai bowl ever!! Loving it!