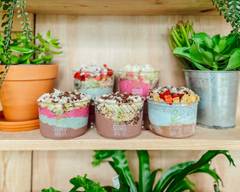 Location and hours
3573 Lake Emma Road, Lake Mary, FL 32746
Sunday
08:00 AM - 10:00 PM
Monday - Friday
07:00 AM - 10:00 PM
Saturday
08:00 AM - 10:00 PM
SOHO Juice Company (Lake Mary)
4.9 (236 ratings) • Juice and Smoothies • $
  •  
Read 5-Star Reviews
  •  
More info
3573 Lake Emma Road, Lake Mary, FL 32746
Tap for hours, address, and more
Pickup • Delivery
Opens Wednesday 7:00 AM
Picked for you

MEAL REPLACEMENT SMOOTHIES (WHOLE FRUIT. NO ICE. AVAILABLE IN 16 OZ OR 24 OZ)

Pick 2 Unlimited Bowl

Wonder Dough Bites - Raw Chocolate Chip Cookie Dough (V/GF)

Pick 3 Unlimited Bowl

PLANT BASED PROTEIN SHAKES (20G/27G OF PLANT PROTEIN PER SHAKE. AVAILABLE IN 16 OZ OR 24 OZ)

VEGAN CRAVINGS

Wonder Dough Bites - Raw Chocolate Chip Cookie Dough (V/GF)

Build your own Parfait (Probiotic Coconut Yogurt)

Peanut Butter Chocolate Keto Parfait (Probiotic Coconut Yogurt)

Nia Colada Parfait (Probiotic Coconut Yogurt) STAFF PICK

COLD PRESSED JUICES (12 OZ. MOSTLY ORGANIC. NO HPP. PRODUCED LOCALLY BY PLANTLIFE)

Floridian- Cold Pressed Citrus Blend (12oz bottle)

Midnight Mule - Cold Pressed Detox Blend (12oz bottle)

Sweet Heat - Cold Pressed Spicy Lemonade (12oz bottle)

Tree Hugger - Cold Pressed Earthy Greens (12oz bottle)

Tropikale - Cold Pressed Sweet Greens (12oz bottle)

Upbeet- Cold Pressed Sweet Beets (12oz bottle)

AILMENT SHOTS (MOSTLY ORGANIC. NO HPP. PRODUCED LOCALLY BY PLANTLIFE)

Immunity Shot 2oz (Garlic, Oil of Oregano, Lemon, Honey)

Pain Killer 2oz (Turmeric, Ginger, Lime, Honey)

Recovery 2oz (Blue Algae, Lemon, Coconut Water, Honey)

BLENDED BEVERAGES

MEAL REPLACEMENT SMOOTHIES (WHOLE FRUIT. NO ICE. AVAILABLE IN 16 OZ OR 24 OZ)

PLANT BASED PROTEIN SHAKES (20G/27G OF PLANT PROTEIN PER SHAKE. AVAILABLE IN 16 OZ OR 24 OZ)

NANA SHAKES (INDULGENT SHAKES MADE WITH BANANA. AVAILABLE IN 16 OZ OR 24 OZ)

CREATE YOUR OWN BLENDED BEVERAGE

SMOOTHIE SUPERFOOD BOWLS

Soho Acai Bowl

Cloud 9 Bowl

Tropical Pitaya Bowl

LAYERED SUPERFOOD BOWLS

Day Dreamer Bowl

Old School Bowl

Trendsetter Bowl

UNLIMITED SUPERFOOD BOWLS

Pick 2 Unlimited Bowl

Pick 3 Unlimited Bowl

Pick 5 Unlimited Bowl

ALTERNATIVE BEVERAGES & SNACKS (3RD PARTY PRODUCTS FROM COOL BRANDS WE LIKE)

BLK Water PH 8.0+ (16.9 oz bottle)

Essentia Ionized Water PH 9.5+ (20 oz Bottle)

Tribucha Flower of Life Kombucha (12 oz can)

Tribucha Main Squeeze Kombucha (12 oz can)

Olipop Cola Sparkling Tonic (12 oz can)

Olipop Cherry Vanilla Sparkling Tonic (12 oz can)

Olipop Classic Root Beer Sparkling Tonic (12 oz can)

Olipop Orange Squeeze Sparkling Tonic (12oz can)

Clean Cause Blackberry Sparkling Yerba Mate (16 oz can)

Grapefruit Agua Bucha (12 oz can)

BULK SUPERFOODS

Create your own Trail Mix

Homemade Almond Chia Granola (GF/SF/DF)

Homemade Goji Berry Granola (V/GF/NF/SF/DF)

Mix & Match Bases (Pick 2)

Mix & Match Bases (Pick 3)

Mix & Match Bases (Pick 5)

Cloud 9 (Bases Only)

SOHO Acai (Bases Only)

Tropical Pitaya (Bases Only)

Blue Vanilla Chia Pudding (Bases Only)

Almond Joy Overnight Oats (Bases Only)

12 OZ LAYERED BOWLS

12 oz Old School Bowl
5-Star Reviews
Hear from people who love this spot
Beautifully prepared, thank you Miel for ensuring everything was correct! :)
---
---
Love Soho. Quick delivery. Quality food
---
Subhash Chandra Mahesh K.
3 months ago
delicious smoothie bowls!
---
---
Good quality and great taste
---
I just love how fresh and fun everything tastes! And the presentation of the açai bowls are lovely!
---
Every order is always perfect!
---
I love the healthy options and easy drive through! The staff is always friendly.
---
---
---
Always fresh, tasty, and colorful ingredients that leave my stomach feeling nourished. Delivery is quick too!
---
consistent service and great food
---
Best way to start the day!
---
SOHO is my favorite late night healthy snack! Guilty!
---
I love how fresh the ingredients are and how easy it is to have a healthy lunch with their açaí bowls, chia pudding, and granola crunches.
---
Always fresh, delivered with care, and so considerate to leave notes on the package.
---
The açaí bowls are great!
---
Subhash Chandra Mahesh K.
5 months ago
Best ever, delicious healthy and always served with a smile.🤗
---
Great service and delicious bowls
---
Subhash Chandra Mahesh K.
5 months ago
Great food for staying in shape!
---
Kylie double checked and packed my order beautifully and everything is delicious!
---
These are the best bowls I've ever had. The ability to build them however we like is SO appreciated, all of the base options and toppings are fresh and taste great and the smoothies are excellent too! We LOVE that mostly everything is vegan.
---
healthy delicioso sweets!
---
The bowls are so delicious and fillling❤️
---
Destinee always makes a consistently delicious bowl and I NEVER have any issues
---
So tasty! Thanks Kylie for making my smoothie dreams come true!
---
The food is amazing. They follow the orders precisely. They have outstanding customer service.
---
The best acai bowl ever!! Loving it!