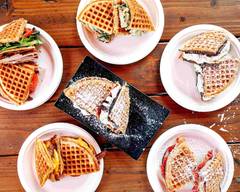 Location and hours
1080 Se Madison St, Portland, OR 97214
Every Day
8:00 AM - 9:00 PM
Smaaken Waffle Sandwiches (Madison)
Delivery
25–40 min • $0.49
Picked for you

Specials & Sides*

Bed of baby spinach, sliced roasted beets, blueberries, chev & toasted almonds. Served with a side of champagne vinaigrette.

Eggs*

Brightwood

Egg, black forest ham, cheddar and maple butter.

Sunrise

Eggs and melty tillamook cheese and maple butter.

Bacon*

Thick cut bacon and maple butter.

Bacon, peanut butter, bananas, and honey.

Nutella and thick cut bacon.

Sausage*

Ham & Turkey*

Vegetarian*

Vegan*

Chicken*

Sweet Waffle Sandwiches*

Kids Favorites*

Drinks*
5-Star Reviews
Hear from people who love this spot
They provide delicious veggie and vegan breakfast options. I always order the Tabor!
---
Waffle sandwich was great!
---
fancy waffles and delicious choices. I like that I can get savory and sweet!
---
Comes exactly as displayed on the menu! Delicious.
---
ive never had a waffle built in this manner!
---
Amazing maple butter. Best veggie sausage EVER
---
---
Always awesome! Cured my hangover!
---