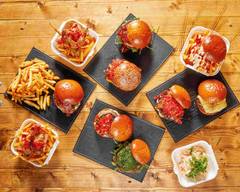 Location and hours
18 Peckham Rye, Peckham, London SE15 4
Sunday
12:00 PM - 08:50 PM
Monday - Tuesday
Closed
Wednesday - Thursday
05:00 PM - 09:50 PM
Friday - Saturday
12:00 PM - 09:50 PM
Slow Richie's
4.8 (113 ratings) • Burgers • £
  •  
More info
Closed • Available at 5:00 PM
Tap for hours, info, and more
Picked for you

Potato Croquettes with Parmesan

September Special - Double Chimichurri Cheese Burger

Haggis & Blue Cheese Croquettes

Meat Burgers

September Special - Double Chimichurri Cheese Burger

The Fish Burger

Vegan and Vegetarian Burgers

The Veggie

The Vegan

Sides

Haggis & Blue Cheese Croquettes

Potato Croquettes with Parmesan

Cajun Cheesy Chips

Chips

Slaw

Sauces To Go

House Pickles (Ramekin)

Original Hot Sauce (Ramekin)

Cajun Black Hot Sauce (Ramekin)

Original BBQ Sauce (Ramekin)

Original Tomato Ketchup (Ramekin)

Vegan Mayo (Ramekin)

Bottled Sauces

Original Hot Sauce (150ml Bottle)

Hot

Cajun Black Hot Sauce (150ml Bottle)

Winter Berry Hot Sauce (150ml Bottle)

Hot

Original BBQ Sauce (250ml Bottle)

Original Tomato Ketchup (250ml Bottle)

Chip Dust (35g pouch)

Alcoholic Drinks

Brick Brewery Peckham Pils

Contains Alcohol

Brick Brewery Peckham Pale

Contains Alcohol

Brick Brewery Peckham Session IPA

Contains Alcohol

Red Stripe

Gosnells Citra Sea Mead

Contains Alcohol

Gosnells Hibiscus Mead

Hawkes Apple Cider

LuvJus - Vodka & Blood Orange

LuvJus - Vodka & Pineapple

Sauvignon Blanc

Malbec

Soft Drinks
Slow Richie's has a FHRS rating of 5. This information was updated on 01/09/2022. The current rating is on their page on the FSA Website. Allergies, intolerances and dietary requirements: Before ordering, please contact the restaurant directly and ask to speak to a member of staff who can assist if you require information about ingredients and help cater for your needs. Adults need around 2000 kcal a day.
Frequently asked questions
Can I order Slow Richie's delivery in London with Uber Eats?
Yes. Slow Richie's delivery is available on Uber Eats in London.
Is Slow Richie's delivery available near me?
Slow Richie's delivery might not be available everywhere in London, so enter your address to see if it's available near you.
How do I order Slow Richie's delivery online in London?
There are 2 ways to place an order on Uber Eats: on the app or online using the Uber Eats website. After you've looked over the Slow Richie's menu, simply choose the items you'd like to order and add them to your cart. Next, you'll be able to review, place, and track your order.
What's the best thing to order for Slow Richie's delivery in London?
What's best at Slow Richie's is totally up to you and your personal preference. If you're in need of some inspiration, consider trying one of the items featured in "Picked for you."
How do I get $0 Delivery Fee at Slow Richie's in London?
The Delivery Fees may vary depending on a number of factors, like your location. Enter your London address to see the current Delivery Fee. You can also explore the Uber Eats membership and subscription options available in your area to see if you can save money on Slow Richie's delivery with $0 Delivery Fee on select orders.