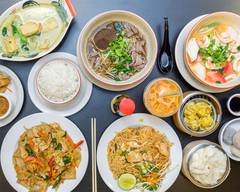 Siam 9
4.8
(22)
  •  
View delivery time and booking fee.
Location and hours
Every Day
11:30 AM - 03:00 PM
Lunch
11:30 AM - 08:30 PM
All Day
Wish you could ask someone what's best here? The spicy pad thai is one of the most ordered items of the 75 things on the menu and the crab rangoon and the pad thai are two of the items most commonly ordered together at this evening go-to. • ¢ • Thai
 • 
Asian
 • 
Noodles
456 Main Street, Holden, MA 01520 • More
---
Lunch Main Dishes

Northern creamy curry-based soup served with egg noodles and ground chicken topped with crispy noodles, cilantro, scallions and fried red onions.

Red peppers, carrots, green beans and kaffir lime leaves.

Mango chunks, carrots, red and green peppers.

Potatoes, onions, carrots and roasted peanuts.

Bamboo shoots, green beans, broccoli, red peppers and basil.

Green beans, bamboo shoots, green peppers and basil.

Pineapple, carrots, potatoes, onions and baby corn.

Lunch Specialty Dishes

Pan-fried salmon topped with sweet and sour chili garlic sauce and served with steamed broccoli, baby corns and carrots.

In garlic sauce, carrots, broccoli, green beans, baby corn and scallions.

Siam Ginger and Scallion Lunch

Green and red peppers, ginger, scallions and baby corn in house sauce.

Crispy duck topped with our house tamarind sauce and fried red onions with steamed broccoli, baby corns and carrots.

Chili garlic sauce with bell peppers, onions, green beans and basil topped with a crispy sunny side up. Somewhat spicy.

Combination of chicken, pork and beef sauteed in house sauce with celery, onions, scallions and cashew nuts. Very spicy.

Creamy peanut sauce cooked in a choice of meat with steamed broccoli, baby corn and carrots.
Picked for you

Crispy wontons filled with cream cheese and imitation crab. Served with sweet chili sauce.

Filled with pork, fried or steamed, served with tangy soy sauce and topped with crispy garlic.

Fried crispy roll filled with cabbage, carrots, taro and vermicelli noodles. Served with chili sauce.

Grilled chicken skewers marinated in Thai spices and coconut milk. Served with house peanut sauce.

Appetizers

Crispy wontons filled with cream cheese and imitation crab. Served with sweet chili sauce.

Chicken or shrimp hand wrap soft rice paper with green leaves, rice vermicelli noodles, carrots, cucumbers and basil. Served with peanut sauce.

Steamed soybeans with a sprinkle of Himalayan salt.

Crispy wonton bag stuffed with vegetables. Served with sweet chili sauce. Vegetarian.

2 golden bag, 2 crispy veggie spring rolls, 4 tofu triangles and 4 scallion pancakes. Served with ginger soy sauce and sweet chili sauce.

Fried crispy roll filled with cabbage, carrots, taro and vermicelli noodles. Served with chili sauce.

Filled with pork, fried or steamed, served with tangy soy sauce and topped with crispy garlic.

Chicken wings marinated in house blend herbs. Served with sweet chili sauce.

6 Piece Scallion Pancakes

Deep-fried pancake with scallions. Served with ginger soy sauce.

2 chicken satay, 2 chicken spring roll, 2 crab Rangoon, 2 veggie crispy rolls and 2 golden bags. Served with peanut sauce and sweet chili sauce.

Grilled chicken skewers marinated in Thai spices and coconut milk. Served with house peanut sauce.

Crispy tofu served with Thai sweet and sour sauce topped with crushed peanuts. Vegetarian.

Choose steamed or fried. Served with ginger soy sauce.

4 Piece Thai Chicken Spring Rolls

Fried crispy rolls filled with chicken, cabbage, carrots and vermicelli noodles. Served with sweet chili sauce.

Brussels sprouts seasoned with house sauce.

Soups

Roasted Duck with Noodle Soup

Braised duck broth served with rice noodles and sliced roasted duck with crispy garlic oil, cilantro and scallions.

Creamy coconut soup with galanga broth with chicken, mushrooms, scallions and cilantro.

Popular Thai soup cooked in Thai herbs with chili, lime, kaffir leaves, lemongrass and mushrooms. Choice of chicken or shrimp. Somewhat spicy.

Delicious braised chicken broth served with rice noodles, bean sprouts and chicken.

Pork wonton in delicious clear broth topped with garlic oil, scallions and cilantro.

Thai style tom yum with mild spicy broth served with rice noodles. Choice of chicken or shrimp.

Salads

Grilled chicken satay served with mixed greens, rice vermicelli noodles, carrots and crushed peanuts. Served with house peanut sauce and sweet and sour sauce.

Larb kai. Ground chicken mixed with chili, lime, onions, crushed roasted rice and fresh herbs. Somewhat spicy.

Vermicelli noodles mixed in spicy-lime sauce with shrimp, onions and cilantro. Somewhat spicy.

Shredded fresh papaya, carrots and tomatoes with Thai chili-tamarind sauce. Somewhat spicy.

Noodle and Rice

Wide rice noodles cooked in our house sauce with broccoli, cabbage, carrots, bean sprouts and egg.

Fried rice cooked in basil chili-garlic sauce with red and green peppers, onions, scallions, basil and egg. Somewhat spicy.

Fried rice with mango, carrots, peas, scallions, chicken and shrimp cooked in yellow curry powder.

House fried rice with chicken and shrimp with egg, onions, carrots, peas and scallions.

Fried rice with egg, carrots, peas, onions, scallions and cashew nuts in green curry. Somewhat spicy.

Fried rice with egg, carrots, peas, onions, scallions and pineapple in yellow curry.

Vermicelli noodles stir-fried in chili basil sauce with bell peppers, onions, carrots, egg and basil. Somewhat spicy.

Rice noodles in pad Thai sauce with chicken and shrimp, bean sprouts, scallions and egg topped with crushed peanuts.

Wide rice noodles cooked in our house sauce with bell peppers, green beans, onions, carrots, basil and egg. Very spicy.

Vermicelli noodles stir-fried in house sauce with carrots, peas, cabbage, baby corn, scallions and egg.

Rice noodles cooked in spicy pad Thai sauce with egg, bell peppers, onions and basil. Very spicy.

Rice vermicelli noodles with bell peppers, onions, bean sprouts and egg in yellow curry.

Dinner Main Dishes

Bamboo shoots, green beans, broccoli, red peppers and basil.

Northern creamy curry-based soup served with egg noodles and ground chicken topped with crispy noodles, cilantro, scallions and fried red onions.

Mango chunks, carrots, red and green peppers.

Green beans, bamboo shoots, green peppers and basil.

Red peppers, carrots, green beans and kaffir lime leaves.

Potatoes, onions, carrots and roasted peanuts.

Pineapple, carrots, potatoes, onions and baby corn.

Dinner Specialty Dishes

Green and red peppers, ginger, scallions and baby corn in house sauce.

In garlic sauce, carrots, broccoli, green beans, baby corn and scallions.

Crispy duck topped with our house tamarind sauce and fried red onions with steamed broccoli, baby corns and carrots.

Creamy peanut sauce cooked in a choice of meat with steamed broccoli, baby corn and carrots.

Pan-fried salmon topped with sweet and sour chili garlic sauce and served with steamed broccoli, baby corns and carrots.

Combination of chicken, pork and beef sauteed in house sauce with celery, onions, scallions and cashew nuts. Very spicy.

Chili garlic sauce with bell peppers, onions, green beans and basil topped with a crispy sunny side up. Spicy.

Sides

Drinks

Desserts