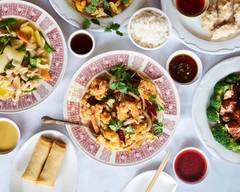 Location and hours
3724 Ne Broadway St, Portland, OR 97232
Every Day
11:00 AM - 2:30 PM
Lunch Menu
11:00 AM - 8:30 PM
Dinner Menu
Shandong
3724 Ne Broadway St, Portland, OR 97232
Delivery • Pickup
Opens Saturday 11:00 AM
Lunch Menu

Choose from a wide selection of our great chicken dishes. come with a rice.

A selection of Chinese classics and modern takes on beef dishes. come with a rice.

Enjoy Shandong classic selection of appetizers.

Choose from our many hand-pulled noodle specialties.

Great tasting prawn dishes to select. come with a rice.

Delightful pork dishes for you to pick. Order rice separately.

(Lunch)Vegetable Dishes

Vegan. So good you'll eat all your vegetables. Prepared fresh.

Your choice of vegan tofu specialties.come with a rice.

Northern Style Fried Rice(北方)

Soy sauce based fried rice, peas, carrots, and egg.

Pork Belly Fried Rice(五花肉炒饭)

Braised pork belly, jalapeno, peas, carrots, shredded lettuce, and egg.

Southern Style Fried Rice(南方)

Seasoned with sea salt, carrots, peas, white onions, shredded lettuce, and egg.

Curry Chicken Fried Rice(咖哩鸡炒饭)

Chicken breast, red bell peppers, white onion, peas, carrots, egg, and house-blend curry spices.

House Made Noodles

Chinese Chicken Noodle Soup

Chicken breast, fresh shiitake mushrooms, spinach, and house broth.

Spinach, shiitake mushrooms, jalapeno, green onion, and garlic wine sauce.

Chicken breast, zucchini, peas, white mushrooms, onions, Korean chili, curry, and Chinese BBQ sauce.

Chicken breast, peas, shiitake mushrooms, white mushrooms, water chestnuts, and spicy peanut sauce.

Red curry, prawns, shiitake mushrooms, red bell peppers, onion, and fresh cilantro.

Spicy Chao Mar Prawn Noodle Soup

Prawns, mixed julienned vegetables, and spicy broth.

Chow Mein

Your choice of protein, pan-fried Rice noodles, yellow onion, green onion ,red pepper, shiitake mushroom,and stir-fried with our house soy sauce.

Your choice of protein, pan-fried egg noodles, carrot, onion, cabbage, spinach, and stir-fried with our house soy sauce.

Drinks
5-Star Reviews
Hear from people who love this spot
---
---
Judy noodles best noodles ever
---
---
The food is delicious, highly recommend.
---
They almost always have a buy one, get one free. Which makes it doable for me and my Beloved. I also love that if I order 2 of the 2 dollar rice boxes. They put it into one big box. Better for the environment, and just as tasty.
---
---
---
---
---
---
The best Chinese food in Portland. Fantastic vegan option. Mapo Tofu is to die for.
---
---
best potstickers in Portland
---
Reliably delicious, love the wonton soup!
---
Best crab rangoons on UberEats! 💜
---
always consistent, always delicious, and super fast!!
---
First time ordering and recommend Judy's Noodles! My partner ordered the spicy dry fried chicken dish which was delicious as well
---
---
The noodles are pretty yummy! I love a good hand-pulled noodle. Hot and sour soup is delicious too!
---
always fresh. always delicious, perfect portions
---
---
Delicious every time. I'm about to order it again, in fact.