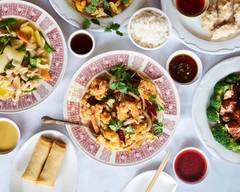 Location and hours
3724 Ne Broadway St, Portland, OR 97232
Every Day
11:00 AM - 2:30 PM
Lunch Menu
11:00 AM - 2:30 PM
Dinner Menu
4:00 PM - 9:00 PM
Dinner Menu
Shandong
4.7 (177 ratings) • Asian •
  •  
Read 5-Star Reviews
  •  
More info
Closed • Available at 11:00 AM
Tap for hours, info, and more
Delivery
20–30 min • $0.49
Picked for you

Your choice of protein, pan-fried egg noodles, carrot, onion, cabbage, spinach, and stir-fried with our house soy sauce.

Northern Style Fried Rice(北方炒饭)

Traditional soy sauce-based fried rice, peas, carrots, and egg.

Dry Sauteed Green Beans(四季豆)

Vegan. Minced ginger, garlic, Chinese turnips, and house soy sauce.

Appetizers

Vegan Spinach Pot Stickers (素锅贴)

Fried Tofu(炸豆腐)

Soups

Sizzling Rice Soup (锅巴汤)

Dragons in the Garden Soup(龙园汤)

House Made Noodles and Soup

Chicken breast, peas, shiitake mushrooms, white mushrooms, water chestnuts, and spicy peanut sauce.

Red Curry Prawn Noodles(咖哩虾面)

Red curry, prawns, shiitake mushrooms, red bell pepper, onion, and fresh cilantro.

Spicy Chao Mar Prawn Noodle Soup(炒码汤面)

Prawns julienned mixed vegetables and spicy broth.

Chinese Chicken Noodle Soup(中式鸡汤面)

Chicken breast, shiitake mushrooms, spinach, and house broth.

Vegetables

Vegetable Trio(三蔬菜)

Vegan. Fresh shiitake mushrooms, broccoli, snow peas, and garlic wine sauce.

Fresh Spinach and Garlic(蒜蓉菠菜)

Sauteed spinach and garlic wine sauce.

Spicy Garlic Eggplant(鱼香茄子)

Vegan. Fresh Japanese eggplant and Sichuan garlic sauce.

Dry Sauteed Green Beans(四季豆)

Vegan. Minced ginger, garlic, Chinese turnips, and house soy sauce.

Dry Sauteed Brussel Sprouts(抱子甘蓝)

Vegan. Minced ginger, garlic, Chinese turnips, and house soy sauce.

Pork

Pork Belly Ma Po Tofu(五花麻婆豆腐)

Braised pork belly, steamed tofu, peas, and white mushrooms, and spicy Szechuan bean sauce.

Battered pork, garlic, ginger, and tangy Peking sauce.

Battered pork, red bell pepper, onions, and sweet and sour sauce.

Shredded pork, jalapeno, yellow and green onion, and spicy Hunan sauce.

Shredded pork, sliced shiitake mushrooms, water chestnuts, and Sichuan garlic sauce.

Chicken

Battered chicken, mushrooms, peas, carrots, and dry fry sauce.

Shandong Chicken(山東鸡)

Chicken breast, fermented black beans, chili pods, and garlic-infused tangy wine sauce.

Clay Pot Curry Chicken(咖哩鸡)

Chicken breast, red bell peppers, onion, carrots, and house blend curry spices.

Chicken breast, red bell peppers, white onion, and fermented black bean sauce.

Shiitake Mushroom Chicken(香菇鸡)

Chicken breast, shiitake mushrooms, and house sauce.

Snow Pea Chicken(雪豆鸡)

Chicken breast, snow peas, and garlic wine sauce.

Diced chicken, red bell peppers, onion, peanuts, chili pods, and house sauce.

Spicy Dry Fried Chicken Wings (干烧鸡翅)

10 pieces. Battered wings, minced garlic. ginger and chili pods, and dry fry sauce.

Sweet and Sour Chicken(甜酸鸡)

Battered chicken, red bell pepper, onion, and sweet and sour sauce.

Battered chicken with house-made lemon sauce.

Cashew Nut Chicken(腰果鸡)

Diced chicken, red bell peppers, onion, Cashew Nut and garlic wine sauce.

Beef

Marinated flank steak, garlic soy, and bed of fresh cabbage.

Red bell peppers, onions, peanuts, chili pods, and house sauce.

Broccoli florets and house sauce.

Snow peas and house sauce.

Shiitake Mushroom Beef(香菇牛)

Fresh shiitake mushrooms and house sauce.

Yellow and green onion, chili pods, house sauce, and crispy rice noodle.

Prawns

White Prawns(白虾)

Red bell peppers, onion, peanuts, chili pods, and house sauce.

Snow Peas and Prawns(雪豆虾 )

Snow pea and garlic wine sauce.

Tofu and Soy Curls

Spicy Dry Fried Tofu(干烧豆腐)

Fried tofu, mushrooms, peas, carrots, and dry fry sauce.

Broccoli and house soy sauce.

Broccoli and house soy sauce.

Fried tofu, broccoli, sesame seeds, garlic, ginger, and chili house sauce.

Fried tofu, red bell pepper, onion, peanuts, chili pods, and house sauce.

Sweet and Sour Tofu(甜酸豆腐)

Fried tofu, red bell pepper, onion, and house-made sweet and sour sauce.

Fried tofu, broccoli, garlic, ginger, and tangy Peking sauce.

Steamed tofu, peas, white mushrooms, garlic, and Szechuan chili bean sauce.

Mongolian Soy Curls(蒙古大豆卷)

Yellow and green onion, chili pods, house sauce, and crispy rice noodles.

Chinese Braised Tofu(中式炖豆腐)

Fried tofu, shiitake mushroom, spinach, carrot, and Napa cabbage in a light soy sauce.

Red Curry Soy Curl Noodles(咖哩大豆卷面)

Soy curls, red curry, shiitake mushroom, red bell peppers, onion, and cilantro.

Chow Mein

Your choice of protein, pan-fried egg noodles, carrot, onion, cabbage, spinach, and stir-fried with our house soy sauce.

Your choice of protein, pan-fried Rice noodles, yellow onion, green onion ,red pepper, shiitake mushroom,and stir-fried with our house soy sauce.

Mu Shu

Choice of protein, Chinese cabbage, willow tree mushroom, and fluffed-eggs sauteed with house soy sauce. Served with four house-made pancakes, hoisin, and green onion.

Rice

Pork Belly Fried Rice(五花肉炒饭)

Braised pork belly, jalapeño, peas, carrots, and shredded lettuce.

Northern Style Fried Rice(北方炒饭)

Traditional soy sauce-based fried rice, peas, carrots, and egg.

Southern Style Fried Rice(西方炒饭)

Seasoned with sea salt, carrots, peas, white onion, shredded lettuce, and egg.

Curry Chicken Fried Rice(咖哩鸡炒饭)

Chicken breast, red bell peppers, white onion, peas, carrots, and house-blend curry spices.

Steamed jasmine rice, serves 1-2

Steamed brown rice, serves 1-2

Drinks

Homemade thai tea with Coconut milk
5-Star Reviews
Hear from people who love this spot
Food is consistently great
---
Its my go-to chinese food place!
---
fantastic Chinese cuisine
---
it's the best chinese in town
---
Authentic and consistent!
---
We love the dumplings and the food is fresh
---
My partner and I absolutely love the northern style fried rice!! It's simply the best around!!
---
---
Delicious every time. I'm about to order it again, in fact.