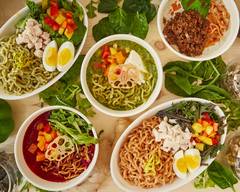 Location and hours
6929 Airport Boulevard , Suite 146, Austin, TX 78752
Sunday - Thursday
11:30 AM - 8:30 PM
Friday - Saturday
11:30 AM - 9:30 PM
Sazan Ramen
6929 Airport Boulevard , Suite 146, Austin, TX 78752
Delivery • Pickup
Opens at 11:30 AM
Picked for you

Indomitable Chicken Wing (5pc)

Our Spicy version of our Creamy Broth Ramen with a hint of nuttiness. Comes with Cilantro, Aji Tama (Umami Egg), Cashew Nuts, Roasted mini Tomato, Onion, and your choice of Pork of Chicken Chashu.

Creamy Broth Ramen made from a mixture of Chicken and Pork broth with Black Garlic Oil. Comes with Ajitama (Umami Egg), Bean Sprouts, Red Cabbage, Bamboo Shoots, Scallions, and your choice of Chicken or Pork Chashu.

Criss cut waffle fries served with Yuzu aioli

Ramen

Our Spicy version of our Creamy Broth Ramen with a hint of nuttiness. Comes with Cilantro, Aji Tama (Umami Egg), Cashew Nuts, Roasted mini Tomato, Onion, and your choice of Pork of Chicken Chashu.

Creamy Broth Ramen made from a mixture of Chicken and Pork broth with Black Garlic Oil. Comes with Ajitama (Umami Egg), Bean Sprouts, Red Cabbage, Bamboo Shoots, Scallions, and your choice of Chicken or Pork Chashu.

Paitan Jr (Kids Ramen Under 12)

1/2 Portions of Paitan broth & noodles, includes Ajitama and choice of Chicken or Pork Chashu
**No extras available

For the DIYers

6 whole Ajitama (Umami Eggs).
*Please consume within 36 hours of ordering and keep refrigerated.


Appetizers

Indomitable Chicken Wing (5pc)

94% (38)

Indomitable Chicken Wing (10pc)

10pc twice cooked chicken wings seasoned with a spicy curry rub.

Criss cut waffle fries served with Yuzu aioli

Rice with your choice of Chicken or Pork Chashu topped with our special Japanese dressing

Tempuraed Onions, Arugula, Beni-Shoga seasoned with ao-nori salt

Drinks

Carbonated Original Flavor
5-Star Reviews
Hear from people who love this spot
Ramen is hard to keep quality delivered but this was amazing!
---
they've mastered to-go ramen and it's delicious every time
---
---
---
I love Sazan Ramen!! It has become my favorite place for Ramen and my my girlfriends as well. We love it!
---
amazing flavor, never disappoints.
---
---
good food and good people
---
---
---
---