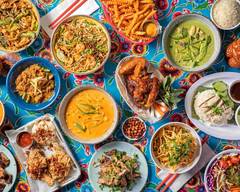 Location and hours
2022 West Roscoe Street, Chicago, IL 60618
Sunday - Monday
05:00 PM - 09:00 PM
Tuesday
Closed
Wednesday - Saturday
05:00 PM - 09:00 PM
Same Same
4.9 (69 ratings) • Thai
  •  
More info
2022 West Roscoe Street, Chicago, IL 60618
Tap for hours, info, and more
Pickup
20–30 min • 718.7 mi
Picked for you

Phat Thai

Snacks

Sii Khrong Muu Yang (Ribs)

Pork ribs, marinaded in white pepper, cinnamon, sesame, and ginger. Then grilled with a ginger honey glaze, served with a side of Jaew sauce. A tart, medium spicy dipping sauce with toasted sticky rice powder, don't skip it!

Shredded green papaya, pounded in a mortar and pestle with long bean, cherry tomato, shredded carrot, roasted peanuts, lime wedge, garlic, chili, tossed in a tamarind dressing.

Hat Yai

Our famous Southern-Thai style fried chicken, extra crispy. Four white meat strips per order, served with sticky rice, crispy shallots, and a side of chili honey.

Curry

Green Curry

Stir Fry & Plates

Phat Thai

Same Same Bowl

Sides

Blanched Chinese broccoli topped with plum sauce and crispy shallots.

Dessert

Kids

Kids Boneless Tenders with Fries

Two white meat chicken strips and fries.

Kids Boneless Tenders with Jasmine Rice

Chicken and rice in a Thai stir fry sauce.

A smaller version of Phat Thai, more mild with white meat chicken and topped with peanuts.

Boiled wonton noodles with no sauce or seasonings.