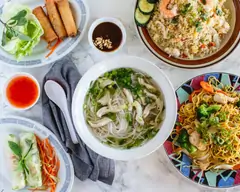 Location and hours
935 Columbus Avenue, New York, NY 10025
Every Day
11:45 AM - 8:30 PM
Saiguette
935 Columbus Avenue, New York, NY 10025
Delivery • Pickup
Opens Sunday 11:45 AM
Picked for you

Marinated w. lemon grass, garlic, coconut milk, and served w. chili lime sauce, sided w. pickle carrot/cucumber, tomato and cucumber

Lemongrass Pork Shoulder W. Cucumber, pickle carrot, pickle jalapeño , cilantro, spicy chili mayo on our home baked bread.

Grilled Juicy Boneless Chicken Thigh W. Cucumber, pickle carrot, pickle jalapeño , cilantro, spicy chili mayo on our home baked bread.

Appetizer

Assorted dumpling (pick any 3 Kinds)

Grilled Chicken Satay (4)

Chicken tenderloin marinated w. garlic, cilantro, lemongrass, coconut milk, served w. crush peanut, pickled carrot/cucumber and satay sauce

Sweet Treats

Salad

Noodle Soups

Noodles

Sandwich

Entree

Side Order

Beverage
5-Star Reviews
Hear from people who love this spot
The pho is our favorite in NYC, their broth is so very flavorful.
---
great packaging of pho, amazing taste, nem is always crispy
---
good portions for the pho and delicious hot sauce!
---
Some of the best pho and summer rolls i've ever had!
---
---
I love their Pho!!! Sooo good.
---
---
I love pho and this place has the best around.
---
I love the soup for the pho, tastes like home esp in a cold winter day! They're a little stingy about how much meat they give you in the pho, but Saiguette has the best sandwiches
---
Amazing food. Large portions. No better Vietnamese place on the upper west. Nothing comes close.
---
The most consistent and delicious food i've ever had in Manhattan. Great flavor, good portions, and always on time.
---
The food is absolutely to die for. Specifically their spicy pho with vermicelli ❤️ it's hearty with just the right amount of kick.
---
Lemongrass pork Banh Mi was fresh and very filling
---
Reasonably priced and consistent quality of comfort food <3
---
They best steak flank sandwich at least by the upper west area, hands down the best bread for Vietnamese in Manhattan, and best Vietnamese lunch special in the upper west side and possibly the entire Manhattan
---
Love their food! It's fresh and tasty!
---
Fresh and piping hot. Portion size is generous for the price.
---
Saiguette is delicious and always made with care! I've been going for years!
---
The food is phenomenal and fresh! I've ordered something new and different each time I've ordered and have been pleasantly pleased each time. LOVEEEE THE PORKBELLY SANDWICH! 10/10
---
Saiguette is my new "it" spot! The flavors are always on point and the meats are cooked to perfection!
---
delicious and affordable. juicy chicken thigh
---
The food at Saiguette is normally good. Served hot, very tasteful and fulfilling. I give it 5 stars.
---
---
Simply delicious! I always look forward to a meal from them.
---
Everything is always on point and delicious!
---
---
---
Best Laksa around. Banh mi great too
---
Best Vietnamese sandwich in the area!
---
Best bahn mi & laksa. So good!
---
Best Vietnamese in the UWS, probably the city
---
My absolute favorite Vietnamese food in the universe. If you don't know what to get, just use my order: Ban Hoi noodles with your favorite protein (I like lemongrass pork without peanuts) and and an order of Nem. Put nuoc cham on everything. Heaven!!
---
Best Bahn Mi sandwiches in NYC. All food is 🔥🔥🔥
---
---
---
Best Summer Rolls ever!!!
---
my favorite place. no exaggeration.
---
There isn't a single thing on this menu not worth getting. Every single thing is the right choice. So glad they are back and deliver to me.
---
Great food for a great service and price
---
Delightfully affordable comfort food
---
---
Flank steak is sooooo good
---
---
Delicious and travels well
---
The food was delicious! great portions.
---
---
---
Best bang for your buck, great service and food; been around since my college days!
---
Quick delivery and each element of the banh mi is delicious and fresh, especially the homemade bread
---
Delicious! Really amazing!
---
The sandwich is so tasty!!
---
Because their sandwiches are top notch. Very well done and tasty. Quite hard to beat.
---
Absolutely the best Pho in town!!!!
---
Best chicken tenderloin sandwich
---
---
---
---