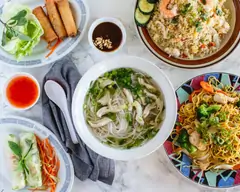 Location and hours
935 Columbus Avenue, New York, NY 10025
Every Day
11:45 AM - 8:30 PM
Saiguette
Sauce and Utensil

Extra Pickle cucumber/carrot

Extra spicy Mayo on the Side

Appetizer

Steamed Roast Pork Bao (1)

Sweet Treats

Salad

Noodle Soups

Noodles

Sandwich

Entree

Side Order

Beverage
5-Star Reviews
Hear from people who love this spot
---
---
---
Saiguette is great. Today was a perfect day for it.
---
good taste and large portion
---
---
---
Great flavor, good portion size, stays crispy and hot even when delivered!
---
---
The grilled chicken thigh sandwich is probably the best thing I've put in my mouth in years. Delivery took a while though, not sure if it was the restaurant's fault or Uber Eats.
---
---
Awesome Pho and Bun noodles.
---
Great portions and quality food. The chicken is flavorful and the bhan mi never misses!
---
---
Their food is so delicious. I keep thinking I'll have something else, but then I can't stop thinking about the Bahn Mi
---
---
Great food...highly recommended
---
Incredible food! By far one of the best spots in the UWS
---
Love this place. Have loved it for years. Always and consistently delicious!
---
---
superfast delivery and delish food!
---
obsessed w the pork lemongrass banh mi and the spicy pho
---
---
---
great banh mi and pho! and love taro mochi dessert
---
Food is always consistently amazing and delicious!
---
---
---
---
The best, delicious food, quality meal!
---
---
Fast and friendly and consistently very good!
---
Both the pho and bahn mi were super tasty!
---
Awesome food and so happy they are now available on Uber Eats!
---
---
I have been eating at Saiguette for many many years, one thing about their food is the consistency. The food is always to perfection, time and time again. My favorite is the Veg Nem and Laksa.
---
---
The boneless thigh sandwich and entree meal are among the best flavors I've ever tasted. The tenderest chicken, the fermented veggie combo of sliced carrots & cucumbers, complement the sandwich meals.
---
Their signature meal is perfect for lunch. It always come fresh and hot!
---
---
The chicken thigh meal is always fresh, delicious and well packaged.
---
The food was delicious! great portions.
---
Delicious and good potions!
---
---
---
Best bang for your buck, great service and food; been around since my college days!
---
Quick delivery and each element of the banh mi is delicious and fresh, especially the homemade bread
---
Delicious! Really amazing!
---
Best Vietnamese sandwich in the area!
---
Best Laksa around. Banh mi great too
---
Some of the best pho and summer rolls i've ever had!
---
---
I love the soup for the pho, tastes like home esp in a cold winter day! They're a little stingy about how much meat they give you in the pho, but Saiguette has the best sandwiches
---
my favorite place. no exaggeration.
---
Best bahn mi & laksa. So good!
---
Amazing food. Large portions. No better Vietnamese place on the upper west. Nothing comes close.
---
I love their Pho!!! Sooo good.
---
---
---
Delicious and travels well
---
Delightfully affordable comfort food
---
Lemongrass pork Banh Mi was fresh and very filling
---
Fresh and piping hot. Portion size is generous for the price.
---