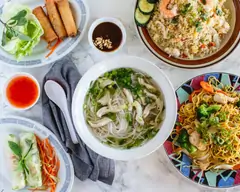 Location and hours
935 Columbus Avenue, New York, NY 10025
Every Day
11:45 AM - 8:30 PM
Saiguette
4.9 (449 ratings) • Vietnamese • $$
  •  
Read 5-Star Reviews
  •  
More info
Tap for hours, info, and more
Delivery
15–30 min • $0.49
Picked for you

Shredded green papaya, cherry tomato, basil, crushed peanut, spicy tamarind lime dressing and nuoc-cham sauce

Lemongrass Pork Shoulder W. Cucumber, pickle carrot, pickle jalapeño , cilantro, spicy chili mayo on our home baked bread.

Assorted dumpling (pick any 3 Kinds)

Appetizer

Assorted dumpling (pick any 3 Kinds)

Pork, Cabbage and Dry shrimp Dumpling

Garlic Chives and shrimp Dumpling

Grilled Chicken Satay (4)

Chicken tenderloin marinated w. garlic, cilantro, lemongrass, coconut milk, served w. crush peanut, pickled carrot/cucumber and satay sauce

Hot & spicy BBQ Spare Ribs (4)

Sticky Rice Red Curry Chicken Pouch (2)

Sticky rice, black bean, chicken w. red curry in coconut milk wrapped in banana leaf and steam

Boneless beef shank w. fresh herb, our spicy blend of spices stew with Carrots, fresh tomato until the tomato is melted and beef is tender

Sweet Treats

Homemade steamed bao with mashed taro inside

Sticky rice flour, mashed taro and coconut flakes

Sticky rice flour, chunky peanut butter and coconut flakes

Salad

Noodle Soups

Curry coconut milk soup w. rice vermicelli, bean sprout, basil and lime

Thin rice noodle, w. beef broth, onions, scallion, cilantro, lime, bean sprout, jalapeno and hoisin sriracha for meat dipping

Vermicelli noodle w. spicy beef broth, onions, scallion, cilantro, lime, bean sprout, basil and hoisin sriracha for meat dipping

Udon noodles w. spicy beef broth served w. bok-choy, onion, scallion, cilantro and sambal-sour-mustard-green

Thin rice noodle, w. chicken broth, onions, scallion, cilantro, lime, bean sprout, jalapeno and hoisin sriracha for meat dipping

Noodles

Banh Hoi (Angel Hair Noodle)

Room temperature rice vermicelli w. julienne cucumber, lettuce, bean sprout, fresh herb, crushed peanuts and nuoc-cham sauce

Veggie. Nem Banh Hoi (Veggie. Spring roll)

Steamed angel hair noodle, scallion, crushed peanut, lettuce, cucumber and nuoc-cham sauce

Sandwich

Lemongrass Pork Shoulder W. Cucumber, pickle carrot, pickle jalapeño , cilantro, spicy chili mayo on our home baked bread.

Marinade Flank Steak W. Cucumber, pickle carrot, pickle jalapeño , cilantro, spicy chili mayo on our home baked bread.

Grilled Juicy Boneless Chicken Thigh W. Cucumber, pickle carrot, pickle jalapeño , cilantro, spicy chili mayo on our home baked bread.

Crispy Chicken cutlet Sandwich

Crispy Fried Chicken Cutlet W. Cucumber, pickle carrot, pickle jalapeño , cilantro, spicy chili mayo on our home baked bread.

Roast Pork, Pork Terrine & Pate Cucumber, pickle carrot, pickle jalapeño , cilantro, spicy chili mayo on our home baked bread.

Chicken Tenderlion Sandwich

Entree

Fillet of pork shoulder marinated in our home made special roast pork sauce, served w. chili lime sauce, sided w. pickle carrot/cucumber, tomato and cucumber

Grilled Chicken Tenderloin

Marinated w. lemon grass, garlic, cilantro, ginger, scallion and served w. chili lime sauce, sided w. pickle carrot/cucumber, tomato and cucumber

Fillet of pork shoulder marinated w. lemongrass, served w. chili lime sauce, sided w. pickle carrot/cucumber, tomato and cucumber

Flank steak marinated w.ground sesame seed, spices, hoisin, served w. chili lime sauce, sided w. pickle carrot/cucumber, tomato and fresh cucumber

Grilled shrimp on the skewers served w. ginger-tamarind sauce, sided w. pickle carrot/cucumber, tomato and fresh cucumber

Lightly battered shrimp w. sweet and sour sauce, sided steamed broccoli

Side Order

Beverage
5-Star Reviews
Hear from people who love this spot
Delightfully affordable comfort food
---
Best Vietnamese in the UWS, probably the city
---
---
Great food for a great service and price
---
Lemongrass pork Banh Mi was fresh and very filling
---
Fresh and piping hot. Portion size is generous for the price.
---
---
Delicious, fresh food. Huge fan of the fried shrimp sandwich and the summer rolls.
Frequently asked questions
Can I order Saiguette delivery in New York with Uber Eats?
Yes. Saiguette delivery is available on Uber Eats in New York.
Is Saiguette delivery available near me?
Saiguette delivery might not be available everywhere in New York, so enter your address to see if it's available near you.
How do I order Saiguette delivery online in New York?
There are 2 ways to place an order on Uber Eats: on the app or online using the Uber Eats website. After you've looked over the Saiguette menu, simply choose the items you'd like to order and add them to your cart. Next, you'll be able to review, place, and track your order.
What's the best thing to order for Saiguette delivery in New York?
What's best at Saiguette is totally up to you and your personal preference. If you're in need of some inspiration, consider trying one of the items featured in "Picked for you."
How do I get $0 Delivery Fee at Saiguette in New York?
The Delivery Fees may vary depending on a number of factors, like your location. Enter your New York address to see the current Delivery Fee. You can also explore the Uber Eats membership and subscription options available in your area to see if you can save money on Saiguette delivery with $0 Delivery Fee on select orders.