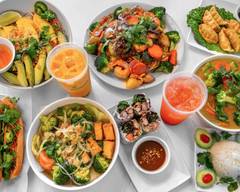 Location and hours
605 Metairie Rd, LA 70005
Sunday
Closed
Monday
10:45 AM - 8:00 PM
Tuesday - Saturday
10:30 AM - 8:00 PM
Rolls N Bowls - Metairie, LA
605 Metairie Rd, LA 70005
Delivery
Too far to deliver
Top reviews

From customers who've ordered here

MK

Always hits the spot. It's our comfort food, especially when we are sick.

RD

Fresh ingredients and flavors you'll get no where else.

RR

Tasty

JP

I love vermicelli bowls and this one might just be the best one I've had yet. 10/10 for...

JH

Great prices and food quality is great.

LH

My go-to place for healthy Vietnamese!!! So fresh and quick and affordable too! Love Rolls...

LM

Consistently good food, great quality and well packaged!

AS

Everything was so delicious. The service is great and the food is even better.

BM

often have buy one get one free offers

CF

Loved the vegetarian soup, very large filling portion

JT

Food is fantastic and fresh! Service exceptional and friendly. Always trying to new menu...

CZ

delicious

JT

Consistently fresh and delicious. Great variety and flavor. Generous portions. Well...

QS

Perfect!

JT

Consistently fresh, delicious and quick preparation and delivery.

CC

I love roll n bowls!

JK

First time ordering and phenomenal food!

LM

Great food and quick

EG

loveeeee rolls n bowls

SM

Lemongrass chicken over rice was amazing. Pho was also delicious.

MM

Awesome food.

ED

food was great...highly recommend

SP

this is exactly what i needed it's sweet but not too sweet i just honestly love it

MB

Best Vietnamese in the greater New Orleans area by far. They are spring rolls cannot be...

MF

Always tastes amazing!

AL

Good food!

JT

I order weekly this place

LM

Great food for reasonable price!

KA

Kristopher aaron K.

4 months ago

I couldn't do life without Rolls N Bowls

PH

very yummy! I will be back!

CM

I've never received anything from here that wasn't fresh as can be!

HM

everything is always fresh and delicious from their bubble tea to their spring rolls to...

MF

Always fresh and delicious

JW

food and delivery is always on great!

BG

BEST HANGOVER CURE!!!

JD

Everything is so fresh and delicious!

ER

Love the Thai tea, Vietnamese iced coffee, and banh mi! Great taste and value 😊

BG

ROLLS N BOWLS MAKES DELICIOUS FOOD FOR MY STOMACH

AL

Food is very delicious!

LR

this place is my comfort food. I absolutely love them. I probably eat here too much but,...

KG

great flavor

SB

This chicken pho is just to die for. The chicken is flavored superbly. I was so pleasantly...

DN

I already knew the pho here was good. I've had it many times. I underestimated how good...

FW

Food was ready quickly.

DA

As always, they have amazingly delicious food.

JM

The Beef Pho Broth is delicious. My orders are always fresh, correct and hot. the pho is...

KG

quick and delicious and always have healthy options. they are friendly and always make...

MH

great shaken beef

CE

Appreciate you all!

AR

It's yummy

UO

It tastes amazing.. well worth the money and fast service..

SL

very tasty

KM

I love how my pho was perfectly packaged! I was able to eat twice, nice sized portion! Ill...

WY

Consistently delicious and fresh!

TJ

Great banh mi and pho!

DT

Always fresh and well seasoned. Portions are generous.

TL

Food is consistently fresh and delicious!!!

RK

They're grilled chicken salad is PHENOMENAL. And who doesn't love spring rolls and bubble...

KG

I know I'm always going to have great food and even when I'm running late I know that I'll...

JH

Consistent high quality food

JA

Top quality food

JH

fresh food, great service, great taste

LW

Lovely seafood and fresh, beautiful presentation on to go soup and fresh rolls.

KG

1st timer and the food was absolutely delicious. Definitely coming back!

VM

We can't get enough of the pork salad, it's become a staple in our dining out rotation....

NA

Quick and delicious

MM

Nice eats

JK

The pho and rolls were delicious!!

RK

Grilled chicken salad is amazing. Enough for at least two servings.

IJ

Great food fast and friendly

RB

everything was delicious

EG

Good, comes with sauce you don't need to order extra

KB

Awesome as always

MS

Literally the best thing to have delivered

EI

Tasty

EL

Quick and tasty!

YB

quick and tasty as usual
Top reviews
From customers who've ordered here
MK
Always hits the spot. It's our comfort food, especially when we are sick.
---
RD
Fresh ingredients and flavors you'll get no where else.
---
RR
---
JP
I love vermicelli bowls and this one might just be the best one I've had yet. 10/10 for the Lemongrass Chicken Vermicelli Bowl. It had the perfect amount and execution of seasoning and the veggies were very fresh. No notes.
---
JH
Great prices and food quality is great.
---
LH
My go-to place for healthy Vietnamese!!! So fresh and quick and affordable too! Love Rolls N Bowls
---
LM
Consistently good food, great quality and well packaged!
---
AS
Everything was so delicious. The service is great and the food is even better.
---
BM
often have buy one get one free offers
---
CF
Loved the vegetarian soup, very large filling portion
---
JT
Food is fantastic and fresh! Service exceptional and friendly. Always trying to new menu items and never been disappointed.
---
CZ
---
JT
Consistently fresh and delicious. Great variety and flavor. Generous portions. Well presented.
---
QS
---
JT
Consistently fresh, delicious and quick preparation and delivery.
---
CC
---
JK
First time ordering and phenomenal food!
---
LM
---
EG
---
SM
Lemongrass chicken over rice was amazing. Pho was also delicious.
---
MM
---
ED
food was great...highly recommend
---
SP
this is exactly what i needed it's sweet but not too sweet i just honestly love it
---
MB
Best Vietnamese in the greater New Orleans area by far. They are spring rolls cannot be beat
---
MF
---
AL
---
JT
I order weekly this place
---
LM
Great food for reasonable price!
---
KA
I couldn't do life without Rolls N Bowls
---
PH
very yummy! I will be back!
---
CM
I've never received anything from here that wasn't fresh as can be!
---
HM
everything is always fresh and delicious from their bubble tea to their spring rolls to the entres. my s.o. and I love this place.
---
MF
Always fresh and delicious
---
JW
food and delivery is always on great!
---
BG
---
JD
Everything is so fresh and delicious!
---
ER
Love the Thai tea, Vietnamese iced coffee, and banh mi! Great taste and value 😊
---
BG
ROLLS N BOWLS MAKES DELICIOUS FOOD FOR MY STOMACH
---
AL
---
LR
this place is my comfort food. I absolutely love them. I probably eat here too much but, it's that delicious.
---
KG
---
SB
This chicken pho is just to die for. The chicken is flavored superbly. I was so pleasantly surprised
---
DN
I already knew the pho here was good. I've had it many times. I underestimated how good the jasmine tea with the fruit was going to be.
---
FW
---
DA
As always, they have amazingly delicious food.
---
JM
The Beef Pho Broth is delicious. My orders are always fresh, correct and hot. the pho is packaged properly. the strawberry green tea is fresh and delicious. One of my fave Pho Shops. highly recommend. try the filet pho!
---
KG
quick and delicious and always have healthy options. they are friendly and always make time even when they are busy to be personable :)
---
MH
---
CE
---
AR
---
UO
It tastes amazing.. well worth the money and fast service..
---
SL
---
KM
I love how my pho was perfectly packaged! I was able to eat twice, nice sized portion! Ill try the fried dumplings next time as well.
---
WY
Consistently delicious and fresh!
---
TJ
---
DT
Always fresh and well seasoned. Portions are generous.
---
TL
Food is consistently fresh and delicious!!!
---
RK
They're grilled chicken salad is PHENOMENAL. And who doesn't love spring rolls and bubble tea?
---
KG
I know I'm always going to have great food and even when I'm running late I know that I'll be able to eat lunch they're quick and delicious
---
JH
Consistent high quality food
---
JA
---
JH
fresh food, great service, great taste
---
LW
Lovely seafood and fresh, beautiful presentation on to go soup and fresh rolls.
---
KG
1st timer and the food was absolutely delicious. Definitely coming back!
---
VM
We can't get enough of the pork salad, it's become a staple in our dining out rotation. The flavors are spot on every time and they welcome our personal adjustments to the meal. Everything here is always delicious and fresh.
---
NA
---
MM
---
JK
The pho and rolls were delicious!!
---
RK
Grilled chicken salad is amazing. Enough for at least two servings.
---
IJ
Great food fast and friendly
---
RB
---
EG
Good, comes with sauce you don't need to order extra
---
KB
---
MS
Literally the best thing to have delivered
---
EI
---
EL
---
YB