Rock N Roll Sushi & Hibachi (25th Ave) Menu and Delivery in Gulfport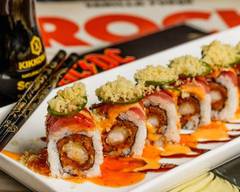 Location and hours
1427 25th Ave, Gulfport, MS 39501
Sunday
11:45 AM - 08:45 PM
Lunch Specials
11:45 AM - 08:45 PM
Food & Beverage
Monday - Saturday
11:00 AM - 08:45 PM
Lunch Specials
11:00 AM - 08:45 PM
Food & Beverage
Rock N Roll Sushi & Hibachi (25th Ave)
4.5 (46 ratings) • Japanese • $$
  •  
Read 5-Star Reviews
  •  
More info
1427 25th Ave, Gulfport, MS 39501
Tap for hours, info, and more
Enter your address above to see fees, and delivery + pickup estimates.
5-Star Reviews
Hear from people who love this spot
I love RR Sushi, because they care about their customers. The food is always fresh, and I love how creative the menu is. Great sushi, great restaurant.
---
The sushi is always fresh and made to perfection!
---
---
Consistent and reliable, not to mention delicious sushi!
---
Always order their cooked sushi and it is always great and tastes fresh!