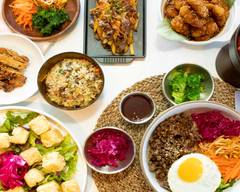 Rice Goban
Location and hours
Sunday - Thursday
11:00 AM - 07:00 PM
Friday - Saturday
11:00 AM - 08:00 PM
(53) on Yelp
•
Read reviews
Experience one of the most popular menu items among Uber Eats users at this midday go-to: the galbi chicken rice. If you're looking to order a couple things, you may consider this popular combination: the crispy tofu rice and the honey fried chicken rice. • $ •
Korean
 • 
Asian
 • 
BBQ
4545 La Jolla Village Dr, San Diego, CA 92122 • More
Delivery • Pickup
Opens at 11:00 AM
---
Picked for you

Chicken, Pork & Vegetables

Sweet and spicy or honey garlic.

Marinated sliced USDA beef rib eye, white rice, onion, and bulgogi sauce. Served with kale, bean sprouts, broccoli, and carrots.

Korean beef bulgogi, bulgogi fried rice, and bulgogi poutine fries with an extra egg on top of rice.

Hansang Boxes

Bibimbap Bowls

Marinated sliced USDA beef rib eye, white rice, onion, and bulgogi sauce. Served with kale, bean sprouts, broccoli, and carrots.

Sweet and spicy fried chicken, white rice, and mayonnaise sauce. Served with kale, bean sprouts, broccoli, and carrots.

Breaded Chicken Breast, White Rice, Honey Garlic & Mayo Sauce, Served with Broccoli, Bean Sprouts, Pickled Red Cabbage, Carrots with White Rice

Marinated chicken thigh, white rice, bulgogi, and mayonnaise sauce. Served with kale, bean sprouts, broccoli, and carrots.

Sauteed tofu and white rice. Served with kale, bean sprouts, broccoli, and carrots.

Chef's Picks

Korean beef bulgogi, bulgogi fried rice, and bulgogi poutine fries with an extra egg on top of rice.

Gabli chicken, white rice, and Korean fried chicken with an extra egg on top of rice.

Crispy tofu, salad, and banchan platter.

Just for Kids

Your choice of grill, base, and side. Served with house salad.

Your choice of any bibimbap bowls.

Sides

Beef bulgogi, potato fries, Cheddar and mozzarella cheese, and bulgogi sauce.

Sweet and spicy or honey garlic.

Chicken, Pork & Vegetables

Banchan Platter

Drinks
Bulgogi rice bowl was so nice. Enough meal quantity and also taste good. The place is clean and comfort also you can watching hockey game while eating food. I'm highly recommend this place.
---
Normally when I go into a food court, I don't really expect excellence, but I do expect a meal that's good enough to make me want to finish it. Rice Goban did not give me that experience. I ordered the build your own box meal, where you can pick a carb, meat, and a side...  
---
If you're looking for a good tasting food that won't break at Westfield UTC, this is definitely the place. After walking around for an hour at Westfield UTC, I wanted to grab a quick asian food to satisfy my hunger. I wanted something more than just a normal Panda and I stumbled across this place...  
---
Rice Goban is a quick, grab-and-go Korean food place. Customers can choose premade bowls or pick out items for a bento box. Although the selection and items all are Korean styled foods, the taste isn't exactly Korean and it's more "Americanized". I got the bulgogi in my bento box, and the marinade wasn't exactly there....  
---
Joe was able to help me veganize a tofu box, and Brandon got to feast on Bulgogi Poutine Fries, Honey Fried Chicken Rice, Bulgogi Rice, and Korean Fried Chicken. My tofu box was so tasty! I LOVED the tofu; crispy on the outside and soft inside, with a great flavor. Brandon really enjoyed all the...  
---
Pretty affordable food located in the utc plaza. It was very allergy friendly for our family where it provided many good options. You can dine inside or outside. The time we were there, there was live music outside, which was lovely. The food was okay. I wouldn't say it was extremely yummy but tasty enough....  
See more on Yelp