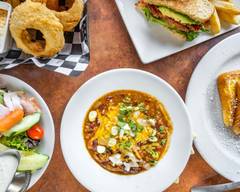 Location and hours
7575 Southeast Tualatin Valley Highway, Hillsboro, OR 97123
Sunday
3:00 PM - 8:30 PM
Lunch & Dinner Menu- Sun. - Thurs.
Monday - Thursday
8:30 AM - 11:30 AM
Breakfast Menu
11:30 AM - 8:30 PM
Lunch & Dinner Menu- Sun. - Thurs.
Friday
8:30 AM - 11:30 AM
Breakfast Menu
11:30 AM - 9:30 PM
Lunch & Dinner Menu- Sun. - Thurs.
Saturday
3:00 PM - 9:30 PM
Lunch & Dinner Menu- Sun. - Thurs.
Reedville Cafe - Hillsboro
Delivery
35–50 min • $1.99
Picked for you

A Classic Hamburger with Cheese

A grilled hamburger patty, topped cheddar and mayo, lettuce, tomatoes, onions, pickles on a grilled pub bun. Made with ½ pound ground beef raised in the Pacific Northwest, char-boiled to your specifications. Served with your choice of coleslaw, red potato salad, French fries, or seasoned criss-cut fries. Substitute gluten-free buns for an additional charge.

Artisan Caramel Apple Pie (per slice)

Very rich and delicious, made by Willamette valley pie company.

A traditional layered chocolate cake with a coconut-pecan frosting.

Beverages

Coke, Diet Coke, Mr. Pibb, Sprite, and Barq's Root Beer.

Local K and F cold brew coffee. Served iced, black, or shaken with cream. Flavors that can be added (caramel or vanilla bean).

Blackberry, mango, raspberry, or strawberry.

Fresh Brewed Iced Tea with Torani Syrup

Flavors (raspberry, mango, or blackberry).

Regular or decaf, almond milk available upon request.

Specials

Chicken breast with bacon, tomato, cheddar cheese, fresh lettuce and our own Ranch dressing.

BBQ brisket, cubed potato, onion and bell pepper - topped with two eggs (cooked any style), pepperjack cheese, sliced avocado, and sour cream.

Appetizers

Two tacos made with warm tortillas filled with grilled cod, red and green onion, cabbage, tomato, sliced avocado and chipotle crema. Served with salsa and a lime wedge.

Served with our own Reedville ranch dressing.

Our Salads

Hot Soup & Bread

Teriyaki Rice Bowl

Noodles & Pastas

Backyard Burgers

Traditional Burgers

Our Sandwiches

Comfort Food

Seafood & Steak

All Day Breakfasts

Delicious Desserts

Kids Lunch & Dinner Meals

Sides

South of the Border

Breakfast Specials
5-Star Reviews
Hear from people who love this spot
It's a lot like home made . Delicious soups great quality meat 🥩
---
Food is always great, especially the ribeye steak. Good variety of salads, sandwiches, and entrees.
---
Their food is always perfectly prepared and delicious!
---
---
Consistently good comfort food!!!
---
---
great food and great monthly variety.
---
All of food is local and very good.
---
This is the ONLY non-canned corned beef, on this side of Portland.
---
Great local American food.
---
---
---