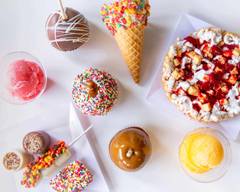 Location and hours
2811 Bartlett Blvd, Memphis, TN 38134
Sunday
1:00 PM - 9:00 PM
Monday
Closed
Tuesday - Saturday
12:00 PM - 9:00 PM
Delivery
50–65 min • $9.99
Pickup
15–25 min • 11.4 mi
Picked for you

Homemade Premium Ice Cream

Flavored Snow And Shakes

Fried Sweets

Strawberry Cheesecake Funnel Cake

91% (101)

Cookies And Cream Funnel Cake

94% (93)

Strawberry Crumble Funnel Cake

95% (21)

Signature Sweets

Chocolate Covered Oatmeal Pie

85% (49)

Gourmet Apples

Ice Cream

Beverages

Gourmet Cheesecake Slices
5-Star Reviews
Hear from people who love this spot
The food is always hot and yummy!
---
delicious shaved snow and cheesecake funnel cakes dipped apples and more! they have never messed up my order it's always perfect and they have a large variety of treats for reasonable affordable prices!
---
Very tasty authentic and fresh
---
Their desserts are amazing!!! I love the funnel cakes!!! They are sooo hot and fresh when I get them!!! The cheesecake is really good too! My favorite is the gooey bars… They are so delicious!!!!!
---
Quintessential sweets is a unique place in Memphis; you just simply don't find places like it. The foods good and leaves me feeling full while also being affordable.
---
Addictive! Family Loves it ! Highly recommends! Fresh and perfect
---
The foid is delicious, everything is prepared nicely and it's a reasonable price.
---
Why I love Quintessential Sweets so much, "Duh!" It's obviously delicious 😋 \nI've tried the flavored snow, ice cream, fried Oreos, and funnel cakes which are amazing.
---
I've never tasted such decadent and inventive desserts and treats. Always very impressed
---
Because my orders are always right and always amazingly delicious!!!
---
My favorite spot to get sweets from !
---
Everything is always fresh and full of flavor ☺
---
Strawberry Funnels cakes are my favorite!
---
their items are always packed well and arrive quickly. everything is delicious
---
Quintessential Sweets has the BEST ice in the city!! I LOVE that I can get it delivered straight to my door and the cups now have a safety seal over them for extra freshness and protection!
---
Quintessential Sweets hits my sweet spot perfectly every time!!
---
Only place to get my FAVORITE guilty pleasure- FRIED OREOS!
---
---
I love you get my sweets from here because the prices are fair and everything they sale is great
---
Best sweets I have had Since moving to Memphis
---
i absolutely love their funnel cake
---
the funnel cakes are tge best in town!!
---
---
Their desserts are delicious!
---
Everything I ordered was awesome...Yummmm
---
They're a Black Owned Business first and foremost! They always have the same presentation and care for their products and customers whether in store or online
---
we have been a custom of theirs since they opened in the first location in bartlett we absolutely love this place
---
---
The chess and gooey bars are addictive! I can't get enough of the caramel apples either. Quintessential Sweets always comes through when I have a sweet tooth.
---
It's a wonderful place!!!!!
---
i have tried everything and its amazing.
---
---
My Kids and I love your sweets
---
I love Quintessential sweets because the desserts are amazing ! 💛✨
---
My daughter and i love the funnel cakes
---
The funnel cakes are amazing
---
---
The sweets are always good .
---
---
---
Always a good idea to order here.
---
Quintessential Sweets!!! That's all my my family and I yell, when we're in the mood for something sweet. Each time we placed an order everything is still hot and fresh as if I myself had prepared the food in the kitchen.
---
---
---
all of your food is excellent!
---
---
---
---
---
---
---