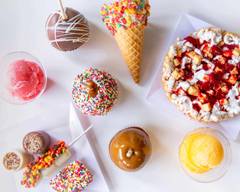 Location and hours
2811 Bartlett Blvd, Memphis, TN 38134
Sunday
01:00 PM - 09:00 PM
Monday
Closed
Tuesday - Saturday
12:00 PM - 09:00 PM
Quintessential Sweets
4.8 (135 ratings) • American • $
  •  
Read 5-Star Reviews
  •  
More info
2811 Bartlett Blvd, Memphis, TN 38134
Tap for hours, address, and more
Enter your address above to see fees, and delivery + pickup estimates.
Wondering what's the best thing on the menu at this evening go-to? Of the 80 things on the menu, the Homemade Premium Ice Cream is one of the items that gets the most orders. • $ •
American
 • 
Desserts
 • 
Specialty Foods
Picked for you

Strawberry Crumble Funnel Cake

Strawberry Cheesecake Funnel Cake

Flavor Snow And Shakes

Fried Sweets

Cookies And Cream Funnel Cake

Strawberry Cheesecake Funnel Cake

Strawberry Crumble Funnel Cake

Signature Sweets

Chocolate Covered Oatmeal Pie

Chocolate Covered Double Decker Banana Moonpie

Chocolate Covered Rice Crispy Treats

Chocolate Covered Twinkies

Gourmet Apples

Ice Cream

Homemade Premium Ice Cream

Beverages

Gourmet Cheesecake Slices

Chocolate Chip Cookie Dough

Birthday Cake Cheesecake Slice

Pecan Pie Cheese Cake Slice
5-Star Reviews
Hear from people who love this spot
Everything I ordered was awesome...Yummmm
---
Their sweets are amazing!!
---
Because I love sweets and they have the best sweets
---
I love and mess with everything they have to offer especially the fried oreo's😵‍💫😩
---
The food is always hot and yummy!
---
The sweets are always good .
---
Very tasty authentic and fresh
---
i absolutely love their funnel cake
---
The foid is delicious, everything is prepared nicely and it's a reasonable price.
---
It's awesome!! They are always still frozen!! Love it 😊
---
Delicious treats that my family loves! Items are always fresh & the customer service has always been great
---
My boys and I love coming here. Customer service is excellent and timely. I've never had to go back and complain. Great job
---
Subhash Chandra Mahesh K.
5 months ago
They are great, lots of great treats and they always taste amazing!
---
Subhash Chandra Mahesh K.
5 months ago
I love the taste and the Quality of the sweets
---
Why I love Quintessential Sweets so much, "Duh!" It's obviously delicious 😋 \nI've tried the flavored snow, ice cream, fried Oreos, and funnel cakes which are amazing.
---
i have tried everything and its amazing.
---
The chess and gooey bars are addictive! I can't get enough of the caramel apples either. Quintessential Sweets always comes through when I have a sweet tooth.
---
---
---
their items are always packed well and arrive quickly. everything is delicious
---
we have been a custom of theirs since they opened in the first location in bartlett we absolutely love this place
---
---
It's the bomb dot com every time.
---
Their desserts are delicious!
---
---
There funnel cake are fire
---
I love you get my sweets from here because the prices are fair and everything they sale is great
---