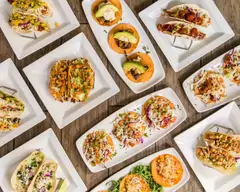 Location and hours
1519 West 18th Street, Chicago, IL 60608
Sunday
10:00 AM - 10:00 PM
Monday - Tuesday
Closed
Wednesday - Friday
05:00 PM - 11:00 PM
Saturday
10:00 AM - 10:00 PM
Delivery • Pickup
Opens at 5:00 PM
Picked for you

Soy-based shredded marinated chicken. Includes rice, beans, lettuce, and tomato.

Soy steak, jalapeño, onions, and tomato. Made with your choice of tofu or organic eggs. Served with beans and rice or fresh fruit.

Soy-based Mexican Sausage Quesadilla (Chorizo)

Soy steak, cactus, mushroom, onion, tomato, and jalapeño. Made with your choice of tofu or organic eggs. Served with beans and rice or fresh fruit.

Burritos

Includes rice, beans, lettuce, and tomato.

Includes rice, beans, lettuce, and tomato.

Grilled soy-based steak. Includes rice, beans, lettuce, and tomato.

Soy-based marinated grilled pork. Includes rice, beans, lettuce, and tomato.

Includes rice, beans, lettuce, and tomato.

Soy-based shredded marinated chicken. Includes rice, beans, lettuce, and tomato.

Soy-based Mexican sausage. Includes rice, beans, lettuce, and tomato.

Soy-based chicken. Includes rice, beans, lettuce, and tomato.

Soy-based roasted lamb. Includes rice, beans, lettuce, and tomato.

Includes rice, beans, lettuce, and tomato.

Includes rice, beans, lettuce, and tomato.

Vegetable based protein pork skin. Includes rice, beans, lettuce, and tomato.

Vegetable based protein roasted pork. Includes rice, beans, lettuce, and tomato.

Burrito Pollo de Soya con Nopalitos

Soy-based chicken with cactus. Includes rice, beans, lettuce, and tomato.

Soy-based steak with onion, tomato, jalapeño pepper, and mushroom.

Includes rice, beans, lettuce, and tomato.

Soy-based steak with onion, tomato, cactus, and mushroom.

Burrito Vegetales

Filled with carrots, zucchini, broccoli, colored bell peppers, and grilled onions.

Dessert (Postres)

Fried Plantains (Plátanos Maduros)

Fresh strawberries served with soy vegan cream.

Platillos

Soy-based pork skin in home-made ranchero sauce.

Fajitas de Vegetales

Yellow, red, and green bell peppers with vegetables.

Soy-based chicken, yellow, red, and green bell peppers with soy chicken.

Soy-based steak, yellow, red ,and green bell peppers with soy steak.

Steak soy meat with onion, tomato, bacon, and jalapeño pepper.

Stuffed peppers with soy chorizo and potatoes.

Three deep-fried tacos stuffed with potatoes served with guacamole and pico de gallo.

Bistec de Soya a La Mexicana

Soy steak with grilled jalapeño, tomato, and onions.

Green or Red Enchiladas (Enchiladas Verdes o Rojas)

Stuffed with your choice of soy steak or chicken.

Vegetarian Hamburger (Hamburgues Vegetariana)

Vegetarian Sandwich (Sandwich Vegetariano)

Breakfast

Red or Green Chilaquiles (Chilaquiles Rojos o Verdes)

Includes soy chicken patty.

Omelettes

Poblano pepper, onions, tomato, and your choice of vegan or regular cheese. Made with your choice of tofu or organic eggs. Served with beans and rice or fresh fruit.

Mushrooms, onions, tomato, and your choice of vegan or regular cheese. Made with your choice of tofu or organic eggs. Served with beans and rice or fresh fruit.

Spinach, onions, tomato, and your choice of vegan or regular cheese. Made with your choice of tofu or organic eggs. Served with beans and rice or fresh fruit.

Soy steak, cactus, mushroom, onion, tomato, and jalapeño. Made with your choice of tofu or organic eggs. Served with beans and rice or fresh fruit.

Soy steak, jalapeño, onions, and tomato. Made with your choice of tofu or organic eggs. Served with beans and rice or fresh fruit.

Tofu a la Mexicana Omelette

Jalapeño, onions, tomato, and your choice of vegan or regular cheese. Made with your choice of tofu or organic eggs. Served with beans and rice or fresh fruit.

Tofu con Chorizo Omelette

Includes soy chorizo. Made with your choice of tofu or organic eggs. Served with beans and rice or fresh fruit.

Includes soy bacon. Made with your choice of tofu or organic eggs. Served with beans and rice or fresh fruit.

Appetizers

Tamales

Homemade vegan tamales with green salsa and soy chicken.

Wrapped in banana leaf peel with red salsa and soy chicken. Includes rice and guacamole.

Side Orders

Tortas

Soy-based steak with onion, tomato, and jalapeño pepper.

Breaded Soy-based Tortas (Milanesa)

Grilled Soy-Based Steak Tortas (Asada de Soya)

Soy-Based Chicken Tortas (Pollo de Soya)

Avocado Tortas (Aguacate)

Veggie Cubana Tortas

Soy-based mexican sausage with soy bacon and soy-based chicken.

Huaraches

Simple quesadillas include only cheese.

Grilled green peppers strips.

Soy-based Shredded Marinated Chicken Huaraches (Tinga)

Soy-based Pork Huaraches (Pastor)

Grilled Soy-based Steak Huaraches (Asada de Soya)

Soy-based Roasted Lamb Huaraches (Barbacoa de Soya)

Soy-based Mexican Sausage Huaraches (Chorizo)

Soy-based Chicken Huaraches (Pollo de Soya)

Cactus Huaraches (Nopales)

Mushroom Huaraches (Hongos)

Vegetable-based protein roasted pork.

Vegetable-based protein pork skin.

Pumpkin Flower Huaraches (Flor de Calabaza)

Corn Truffle Huaraches (Huitlacoche)

Soy-based chicken with mushroom (Mexican-style).

Steak soy meat with onion, tomato, and jalapeño pepper.

Steak soy meat with onion, tomato, cactus, and mushroom.

Steak soy meat with onion, tomato, jalapeño, and mushroom.

Vegetales Huaraches

Filled with carrots, zucchini, broccoli, colored bell peppers, and grilled onions.

Tacos

Grilled Soy-based Steak Tacos (Asada de Soya)

Soy-based Roasted Lamb Tacos (Barbacoa de Soya)

Soy-based Pork Tacos (Pastor de Soya)

Soy-based Shredded Marinated Chicken Tacos (Tinga de Soya)

Soy-based Mexican Sausage Tacos (Chorizo de Soya)

Soy-based Chicken Tacos (Pollo de Soya)

Vegetable-based protein pork skin.

Vegetable-based protein roasted pork.

Soy-based Chicken with Cactus Tacos (Pollo de Soya con Nopalitos)

Steak soy meat with onion, tomato, jalapeño, and mushroom.

Steak soy meat with onion, tomato, cactus, and mushroom.

Vegetales Tacos

Filled with carrots, zucchini, broccoli, colored bell peppers, and grilled onions.

Quesadilla

Simple quesadillas include only cheese.

Grilled green peppers strips.

Soy-based Shredded Marinated Chicken Quesadilla (Tinga)

Soy-based Pork Quesadilla (Pastor)

Grilled Soy-based Steak Quesadilla (Asada de Soya)

Soy-based Roasted Lamb Quesadilla (Barbacoa de Soya)

Soy-based Mexican Sausage Quesadilla (Chorizo)

Soy-based Chicken Quesadilla (Pollo de Soya)

Cactus Quesadilla (Nopales)

Mushroom Quesadilla (Hongos)

Vegetable-based protein roasted pork.

Vegetable-based protein pork skin.

Pumpkin Flower Quesadilla (Flor de Calabaza)

Corn Truffle Quesadilla (Huitlacoche)

Soy-based chicken with mushroom (Mexican-style).

Steak soy meat with onion, tomato, cactus, and mushroom.

Steak soy meat with onion, tomato, jalapeño, and mushroom.

Vegetales Quesadilla

Filled with carrots, zucchini, broccoli, colored bell peppers, and grilled onions.

Other Drinks

Fruit punch, tamarind, mango, mandarin orange, pineapple, lemon, and grapefruit.

Mexican Coke (Coca-Cola Mexicana)

Mexican Squirt (Squirt Mexicano)

Water (Agua Embotellada) (Bottle)

Coke, Diet Coke, and Sprite.

Aguas
Frequently asked questions
Can I order Quesadilla Pilsen delivery in Chicago with Uber Eats?
Yes. Quesadilla Pilsen delivery is available on Uber Eats in Chicago.
Is Quesadilla Pilsen delivery available near me?
Quesadilla Pilsen delivery might not be available everywhere in Chicago, so enter your address to see if it's available near you.
How do I order Quesadilla Pilsen delivery online in Chicago?
There are 2 ways to place an order on Uber Eats: on the app or online using the Uber Eats website. After you've looked over the Quesadilla Pilsen menu, simply choose the items you'd like to order and add them to your cart. Next, you'll be able to review, place, and track your order.
What's the best thing to order for Quesadilla Pilsen delivery in Chicago?
What's best at Quesadilla Pilsen is totally up to you and your personal preference. If you're in need of some inspiration, consider trying one of the items featured in "Picked for you."
How do I get $0 Delivery Fee at Quesadilla Pilsen in Chicago?
The Delivery Fees may vary depending on a number of factors, like your location. Enter your Chicago address to see the current Delivery Fee. You can also explore the Uber Eats membership and subscription options available in your area to see if you can save money on Quesadilla Pilsen delivery with $0 Delivery Fee on select orders.