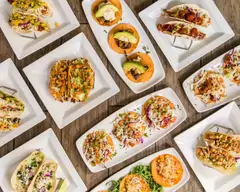 Location and hours
1519 West 18th Street, Chicago, IL 60608
Sunday
10:00 AM - 9:30 PM
Monday - Friday
5:00 PM - 10:30 AM
Saturday
10:00 AM - 9:30 PM
Quesadilla Pilsen
1519 West 18th Street, Chicago, IL 60608
5-Star Reviews

Hear from people who love this spot

VA

YAY VEGAN

JN

The food is clean, consistently delicious and made with intention. Great place definitely...

LG

Love that they are now in Pilsen! Yummy vegan Mexican food

KN

amazing and delicious vegan food! makes me feel so good 🥰

VF

I love Quesadilla!! The most amazing vegan restaurant! My absolute favorite! :)

DG

Ordered via UBER EATS: totally worth the wait. Beautifully packed, warm, and plenty of...

Burritos

Soy-based chicken. Includes rice, beans, lettuce, and tomato.

Grilled soy-based steak. Includes rice, beans, lettuce, and tomato.

Soy-based Mexican sausage. Includes rice, beans, lettuce, and tomato.

Burrito Vegetales

Filled with carrots, zucchini, broccoli, colored bell peppers, and grilled onions.

Soy-based shredded marinated chicken. Includes rice, beans, lettuce, and tomato.

Soy-based marinated grilled pork. Includes rice, beans, lettuce, and tomato.

Includes rice, beans, lettuce, and tomato.

Vegetable based protein pork skin. Includes rice, beans, lettuce, and tomato.

Soy-based roasted lamb. Includes rice, beans, lettuce, and tomato.

Includes rice, beans, lettuce, and tomato.

Soy-based steak with onion, tomato, cactus, and mushroom.

Vegetable based protein roasted pork. Includes rice, beans, lettuce, and tomato.

Soy-based steak with onion, tomato, jalapeño pepper, and mushroom.

Includes rice, beans, lettuce, and tomato.

Includes rice, beans, lettuce, and tomato.

Includes rice, beans, lettuce, and tomato.

Burrito Pollo de Soya con Nopalitos

Soy-based chicken with cactus. Includes rice, beans, lettuce, and tomato.

Includes rice, beans, lettuce, and tomato.

Dessert (Postres)

Fresh strawberries served with soy vegan cream.

Fried Plantains (Plátanos Maduros)

Platillos

Breakfast

Omelettes

Appetizers

Side Orders

Tortas

Huaraches

Tacos

Quesadilla

Other Drinks

Aguas
5-Star Reviews
Hear from people who love this spot
---
The food is clean, consistently delicious and made with intention. Great place definitely recommend it.
---
Love that they are now in Pilsen! Yummy vegan Mexican food
---
amazing and delicious vegan food! makes me feel so good 🥰
---
I love Quesadilla!! The most amazing vegan restaurant! My absolute favorite! :)
---
Ordered via UBER EATS: totally worth the wait. Beautifully packed, warm, and plenty of salsa. Food is always great when I dine in; risked having it delivered but it was absolutely perfect compared to other non-vegetarian and non-vegan options that constantly disappoint. Thank you to everyone there.