PokéNori by Yakinori (Selly Oak) Menu and Delivery in Birmingham, UK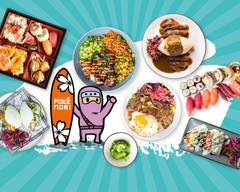 Location and hours
520 Bristol Road, Selly Oak, Birmingham, EMEA B29 6BD
Every Day
11:00 AM - 09:00 PM
Too far to deliver
PokéNori by Yakinori (Selly Oak)
4.6 (200+ ratings) • Sushi • ¢¢
  •  
More info
520 Bristol Road,
Selly Oak, Birmingham, EMEA B29 6BD
Enter your address above to see fees, and delivery + pickup estimates.
Picked for you

Starters

Miso Soup

Edamame

Kabocha Pumpkin

Miso Mushroom & Aubergine Bao

Yasai Gyoza

Poke Bowls

Yasai Tofu Poke

Miso Grilled Chicken Poke

Build Your Own Poke

Golden Tofu BYO Bowl

Firecracker Chicken Poké BYO

Poke and Sushi Extras

Sushi & Platters

Yasai Geta

Crispy Salmon Biso Half Roll

Tempura Chilli Crab & Prawn Half Roll

Yasai Inari - Half roll

Crab and Prawn Whole Roll

Yasai Inari Whole Roll

Avocado Maki

Cucumber Maki

Inari Sweet Tofu Nigiri

Katsu Curry

Pumpkin Katsu

Donburi

Firecracker Prawn donburi

yasai tofu and mushroom don

Bubble Tea

Juices

Extras

Steamed Rice

Japanese Pickles

Kids Ninja Menu

Dessert

Soft Drinks

Ramune Japanese Lemonade - Strawberry

Sake, Plum Wines and Beers
PokéNori by Yakinori (Selly Oak) has a FHRS rating of 5. This information was updated on 27/01/2022. The current rating is on their page on the FSA Website. Allergies, intolerances and dietary requirements: Before ordering, please contact the restaurant directly and ask to speak to a member of staff who can assist if you require information about ingredients and help cater for your needs.