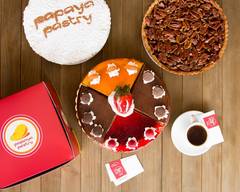 Papaya Pastry
4.9
(18)
  •  
View delivery time and booking fee.
Location and hours
Every Day
08:30 AM - 09:00 PM
---
Picked for you

Seasonal

Persian doughnuts with saffron and rosee water. 2/5 lbs of three types are assorted in a classic box. It's a delight to have tea with these exceptional doughnuts.

Papaya Tart

Cheesecakes

Tarts

Pies

Danish

Pastries

Vegan

Chickpea

Almond Delight

Baghlava and Bars

Assorted Boxes

Cakes

Brunch

These small puff pastries with cheese inside are a healthy, light snack in the middle of morning.