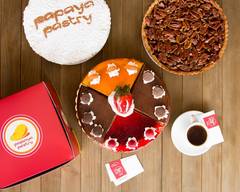 Papaya Pastry
View delivery time and booking fee.
Location and hours
Every Day
08:30 AM - 09:00 PM
(127) on Yelp
•
Read reviews
1133 N Pacific Ave, Glendale, CA 91202 • More
---
Picked for you

Seasonal

Persian doughnuts with saffron and rosee water. 2/5 lbs of three types are assorted in a classic box. It's a delight to have tea with these exceptional doughnuts.

Papaya Tart

Cheesecakes

Tarts

Pies

Danish

Pastries

Vegan

Chickpea

Almond Delight

Baghlava and Bars

Assorted Boxes

Cakes

Brunch

These small puff pastries with cheese inside are a healthy, light snack in the middle of morning.
One of my favorite pastry shops in Los Angeles area. There are so many Armenian bakeries around me but I can't say they are all good. I have had some bad experiences but not with Papaya. Every time I have bought something it's has been fresh and delicious. Their cookies and pastries are displayed nicely...  
---
One of my favorite pastry shops in Glendale. Their strong suit is using gluten-free flours/ingredients to make some of their pastries: most notably ground chickpeas/chickpea flour -- an absolute favorite of mine. I'm a big fan of their almond clusters, their extra thin and flakey cinnamon-topped wafer, and their sesame-coated chickpea balls. But honestly, you...  
---
Never go to this store their owner's wife has a bad attitude and she will disrespect you in very bad ways. We have been their customer since day one never had issues until recently my mom bought birthday cake and it was frozen she went and tell the owner what happened. Couple days later when...  
---
Pleasantly surprised! My first time and I was expecting these cookies and pastries to be hard. Like the holiday tin European cookies. But these were soft! Not crumbly soft like danish cookies but melt in your mouth. Great balance of all the flavors of fruit, nut and chocolate but not too sweet. Even at the...  
---
I recently bought fresh pastries from papaya and I felt it was necessary to write a review. I was absolutely astonished at how good the presentation and taste of the pastries were. The pastries were very fresh and tasteful, hands down one of the best Pastry shops in Glendale. Definitely a place to go when...  
See more on Yelp